PUTTING LADIES ON A PEDESTAL
By One Giant Leap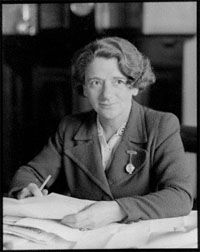 Local historian Martin Peagam will talk about women associated with Middlesbrough who should perhaps be 'placed on a pedestal', as part of Middlesbrough Local History Month.
Former Middlesbrough MP, Ellen Wilkinson, was recently selected by public vote to occupy the "eighth plinth" in Middlesbrough. Famed for the Jarrow March and nicknamed Red Ellen, the Labour MP was Middlesbrough's first and so-far only woman Member of Parliament. She will also be the first and only woman to be awarded a statue in our town. But what other notable woman have there been in Middlesbrough? Local historian Martin Peagam asks this question and aims to talk us through the lives of women that have made a real mark here.

The talk will take place on Saturday, May 27 from 2.30pm-3.30pm, at Middlesbrough Central Library.

With fundraising ongoing for the Eighth Plinth campaign, which will see the erection of a statue commemorating Ellen Wilkinson MP – the first female statue in the town – the talk will look at other notable local women, some famous, others less well-known.
It should be noted that the statue will now actually be the ninth plinth because of the recent unveiling of a statue to VC winning WWI hero, Tom Dresser outside the Dorman Museum. At a talk this week Dr Ben Roberts of Teesside University discussed all the other public statues in Middlesbrough beginning with that commemorating our first mayor and MP Henry Bolckow unveiled in 1881.
Ben noted the gap of almost 100 years between the statue of former mayor and civic leader, Sir Samuel Sadler and Boro Golden boy, Wilf Mannion.

To book a free place to attend Putting Ladies on a Pedestal call the library on 01642 729002.
My idea was to simplify the buildings and link them all in some way & also capture the colours of Boro.
There's a nod to the industrial heritage & the town's history, but also I wanted to capture to aspects of modern Middlesbrough with our newer buildings.
To rate this article select the number of stars you think perfectly rates this article.