DOWN TO THE BARE BONES: HANDS-ON ARCHAEOLOGY
By One Giant Leap
Get hands-on with anthropology and archaeology as part of Middlesbrough's ever-growing Local History Month.

Down to the Bare Bones - Hands-on Anthropology and Archaeology takes place at Middlesbrough Central Library on Monday, May 22.

The one-day workshop features a series of talks and hands-on activities detailing anthropological and archaeological practices and current advances within the disciplines.

Activities will include getting to know the human skeleton, identifying differences between animal and human remains, an introduction to new 3D imaging technology and several short talks by academics working within anthropology and archaeology.

Down to the Bare Bones - Hands-on Anthropology and Archaeology takes place from 10am to 3pm on Monday, May 22 at Middlesbrough Central Library.

The event is hosted by Teesside University and Teesside Archaeological Society and places are free – to book call 01642 729002.

Agenda for the Day
10am Welcome
10.10am Dave Errickson Introduction to the human skeleton from the perspective of the forensic anthropologist and archaeologist and the importance of identifying correctly.
10.40am ACTIVITY: Animal Identification
11.15am Matt Adamson: Forensic Archaeology
12.00am Tim Thompson: Using the Skeleton to Age and Sex
12.30pm Lunch Break
1.15pm ACTIVITY: Identifying features on the skeleton
2.15pm Rhys Williams: Case Studies using the human body
2.45pm Dave Errickson: Closing Remarks
3pm Close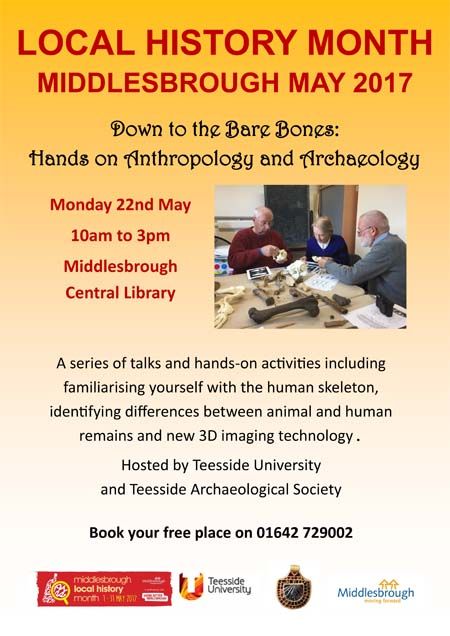 To rate this article select the number of stars you think perfectly rates this article.