International Grants for Mima Useful Museum Vision
By Oliver Dixon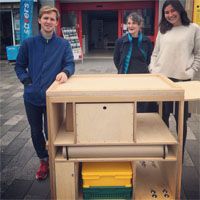 Some good news to start the year as Middlesbrough's MIMA has received a couple of big international grants and recognition for its useful museum agenda. This is recognition of the modern art gallery reaching out and even helping create employment and stimulate debate in quite far reaching subjects.
MIMA (or the Middlesbrough Institute of Modern Art) has been awarded grants from two arts-related funding streams totalling more than £22,500. The museum aims to offer distinctive and thought-provoking programmes, which explore value, activism, community building and citizenship, and this type of funding will only help to support their goal.
The Paul Mellon Centre for Studies in British Art is set to provide the largest of the grants, totalling £15,000. For the second year running it will support New Boosbeck Industries, a project by Adam Clark, a Middlesbrough-based artist that draws from Boosbeck Industries, an innovative social improvement initiative set up during the late 1920s in East Cleveland.
Boosbeck Industries emerged as part of the work camps created by Major Jim and Ruth Pennyman during the time of the Great Depression, as a way of tackling high unemployment across the East Cleveland area. Former student of German art school 'Bauhaus', Wilfred Franks, created furniture and taught woodwork with local miners, so that they could earn a sustainable living.
Clark discovered Boosbeck Industries whilst in residency in Paris, where he was amazed to find information in the archives. Within the context of New Boosbeck Industries, Clark is making contemporary practical style furniture, providing benches and tables for MIMA's entrance, and working on a number of other commissions, including a refitting and reworking of the gallery's shop.
"Reviving Boosbeck Industries was an opportunity to bring art and work together as well as to reflect the ethos of the old Boosbeck co-operative scheme to create a community-based project," comments Clark.
"Our furniture is designed and manufactured in a practical style for the 21st century market, working with local people and collaborating with other artists on skill sharing. Ultimately, this operation enables further employment."
As well as this, a further grant of £7,500 has been awarded by Acciόn Cultural Española, or Spain's public agency for cultural action. This will help support Peruvian artist Daniela Ortiz. Based out of Spain, Ortiz has an up-and-coming exhibition at MIMA where she examines colonialism, nationality, race and class in relation to exclusion from mainstream histories and social conditions.
As a migrant herself, she has used her own experiences within the exhibition. Ortiz is producing works that question migratory control systems and challenging border control policies. She also challenges the perceptions around the 'refugee crisis' and reconsiders the politics surrounding the subject of citizenship.
In Middlesbrough she has led workshops with asylum seekers, particularly single mothers with children under five years old, and she is collaborating with other members of refugee-background groups to show her support.
Ortiz will exhibit at MIMA and lead further workshops and presentations throughout 2017. Her exhibition, ABC of Racist Europe will display findings of her latest research alongside newly commissioned and existing work remade for the occasion. It will include visuals such as paintings, videos, installations, textile pieces, as well as publications, lectures and personal documents.
Senior Curator at MIMA Miguel Amado commented: "Our recent success in securing funding allows two very different projects but both very relevant to the area to be produced and exhibited.
New Boosbeck Industries will continue with plans to establish a contemporary production line based on local, historical furniture designs whilst Ortiz's practice looks at and instigates societal change locally and globally."
Having recently been awarded the Contemporary Art Society's new Collection Fund at Frieze, MIMA looks to be going from strength-to-strength. The success of further funding comes on the back of this award, with two artworks valued at £50,000 each purchased at Frieze London art fair back in October 2016.
MIMA has gained global recognition for challenging the role of a museum in society. The director and the team are trying to follow an agenda of bringing a range of innovative projects and activities within the building to make it accessible and open, as well as diverse, and free for everyone to use.
To rate this article select the number of stars you think perfectly rates this article.