Lazenby Cenotaph Repaired in Time for Remembrance Days
By Dave Allan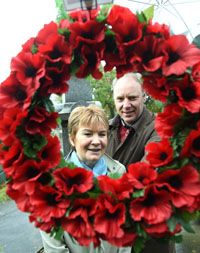 Lazenby residents are set to celebrate Armistice Day and Remembrance Sunday after their SABIC neighbours from the nearby Wilton site restored the wall and wrought iron railings around the village cenotaph.

Chemical giant SABIC and its contractors stepped in at the request of Cllr Ann Higgins, independent councillor for the Eston Ward, when Lazenby residents spotted cracks in the cenotaph wall.

New wrought iron railings were also installed after elderly residents raised safety concerns when accessing a slope and path to the cenotaph.

SABIC joined forces with contractors Tolent Construction of Thornaby and Middlesbrough-based steel fabricators Meltt Mett Infinity to complete the community work.

Cllr Higgins, who is also chair of Eston Residents Association and a member of Lazenby Environment Group, said: "Our cenotaphs are an important part of our heritage and a permanent reminder to us all of how so many gave so much for all our tomorrows.

"Unfortunately, we had noticed the wall cracking over the last year. The cenotaph doesn't belong to the council but to the village so we had to find the funding ourselves so I approached SABIC to see if they could help.

"On behalf of the people of Lazenby, I'd like to thank SABIC for their kind gesture. The installation of the lovely railings was an added bonus.

"It's good to see industry working with the local community and to see them putting something back into the area where their employees come from."

SABIC Site Director John Bruijnooge said: "We're delighted to strengthen our links with our neighbours in the community.

"We hope that the restoration works will enable generations more people to remember the ultimate sacrifices made so that we are able to lead the lives we do today."

There is a small wreath laying service at Lazenby cenotaph at 12 noon on Remembrance Sunday.

A larger parade and service takes places in Eston town centre, organised by the Eston Residents Association, which leaves the Eston Youth Centre at approximately 10.35am.
Pictured - SABIC's Teesside Site Director John Bruijnooge presents a wreath of poppies to Cllr Ann Higgins at Lazenby's refurbished cenotaph.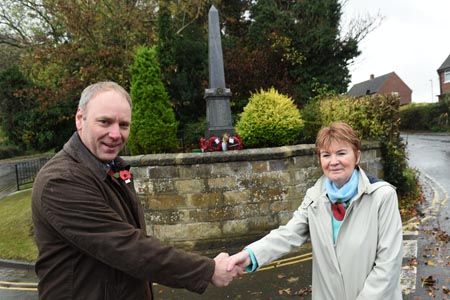 To rate this article select the number of stars you think perfectly rates this article.