TREASURES OF THE TOWN HALL EVENT TO EXPLORE LANDMARK'S HERITAGE
By One Giant Leap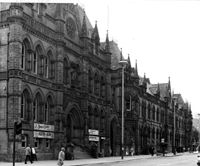 This Friday (October 21, 11am-noon) as part of the Discover Middlesbrough festival and the Heritage Lottery Fund-supported Middlesbrough Town Hall Restoration and Refurbishment project, members of the public are invited to explore the history and heritage of the Grade II* Listed landmark.
The 'Treasures of the Town Hall' event will be held in the Council Chamber and includes a talk by Middlesbrough Town Hall's Rob Guest and Heritage Development Officer Tosh Warwick. There will also be an opportunity to visit the Erimus Heritage Room and enjoy a guided tour highlighting some of the building's key features.
The Town Hall, officially opened in 1889 by the Prince and Princess of Wales, has been at the centre of a number of key events in Middlesbrough's history including hosting the reception for the 1911 opening of the Transporter Bridge and serving as a recruitment office during the First World War.
Town Hall Manager Rob Guest said: "Middlesbrough Town Hall has a rich heritage and has been at the heart of the town for over 120 years.
"The event provides an opportunity to learn more about the history of the building and the ongoing transformation of one of the town's best known landmarks."
Those wishing to attend the event should meet at the main reception of Middlesbrough Town Hall.
More information on Discover Middlesbrough events and an online brochure can be found at http://www.lovemiddlesbrough.com/whats-on/discover-middlesbrough-2016
To rate this article select the number of stars you think perfectly rates this article.