CAPTAIN COOK'S NEW VOYAGE – ON TWO WHEELS!
By Andrew Pain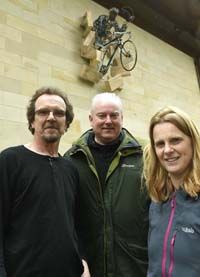 Endeavour, Adventure, Discovery, Resolution…and a bicycle? Captain James Cook's vessels of discovery are the stuff of legend, and rightly celebrated at his Birthplace Museum in Stewart Park.
But now there's a new addition to mark the Captain Cook Stage of the 2016 Tour de Yorkshire which will see the world's best cyclists pedal through the park on Sunday, May 1.
The famous explorer can be seen emerging on two wheels from high on the wall of the museum thanks to a striking new artwork installed this week.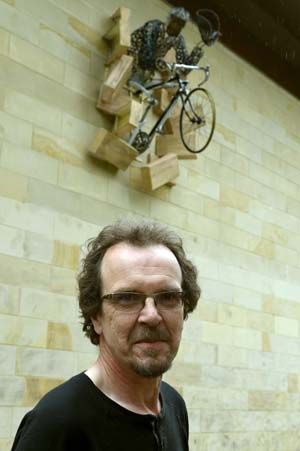 The life-size sculpture was commissioned by the museum and created by local artist Keith Peacock using discarded bicycle parts, including a torso created of cogs and sections of bike chain.
Keith threw himself into the challenge of creating a lasting and memorable piece, and described the opportunity to create a piece of public art in tribute to Middlesbrough's greatest son as a real honour.
He said: "In the many hours I have spent in my workshop creating this piece and looking at it close up, it was often difficult to see the bigger sculpture.
"It really made me think about Captain Cook the man and the machine and how the sculpture combines the two so well.
"It all comes together as a triumphant explosion out of the museum to celebrate the Tour de Yorkshire."
The pieces for the sculpture have been kindly donated by Bike Scene, Skinnergate Cycles and East Coast Cycles.
Senior Museums Curator Phil Philo said: "The idea for the sculpture began to take shape when we were thinking how best to mark the arrival of the Tour de Yorkshire here at Cook's birthplace.
"We set out to create something different that would have an impact when people visit the park for the Tour de Yorkshire, and remind future visitors that the park played host to such a fantastic event.
"As a legacy of the Tour it seems to pose the question, had the bicycle been invented, would Cook have embraced the technology and the thrills and spills that it offered, and had the ambition to cycle farther than any man?
"We certainly think so!"
The unveiling of the new sculpture follows the return of the scale replica of Cook's HM Bark Endeavour to the Cleveland Centre after an absence of more than a decade.
To rate this article select the number of stars you think perfectly rates this article.