New Localism Works at Mima
By One Giant Leap
Last week saw a rehang of new works as part of the Localism exhibition at Middlesbrough Institute of Modern Art (mima). Featuring a selection of self-curated displays, these pieces will be the last to be introduced to the public before the show closes on 7 February.

Localism is an exhibition about history, visual culture, politics and making in Middlesbrough using crowd-sourced contributions from the town. It includes an eclectic mix of artworks, artefacts, archival materials and personal documents alongside regular talks self-led by audience members and workshops hosted by resident artists.

As part of the rehang, there have been new displays uniquely created for dedicated cases. One is by siblings Catherine Forbes and Pete McCarthy, who have created a display themed around the Eight Streets of Grangetown built during 1880s and which Grangetown subsequently grew around.

The display includes newspaper clippings, paintings by Catherine Forbes and a collage with photographs illustrating those who lived in the eight streets during the 80s years of its existence.

Pete McCarthy drew inspiration for the display when visiting the gallery's collection storage. There, he came across Kenneth Gribble's painting Cheetham Street, which took him back to his childhood. The piece depicts the original eight streets of Grangetown and the steelworks that hovered over them.

The second display is by aim4art, an art group based in Hemlington, Middlesbrough. Their artists cover a wide range of disciplines, including painting, photography and textiles. On this occasion, they showcase their diverse practice, filling the case allocated to them with pieces made in multiple styles and covering a wide range of subjects.

The exhibition also features the latest display in the first gallery's rotating vitrine. On view is a group of publications selected by Andy Croft from his independent publishing house Smokestack Books, which publishes radical and unconventional poetry.

Localism is also more than just an exhibition as it joins up people and places from across the region to debate local identity and its impact on the wider world. Topics include bridge building, Christopher Dresser and the Linthorpe Pottery (1879 – 1889), the Boosbeck Industries in the 1930s and steel industry.

Senior Curator Miguel Amado said: "We have always tried to revisit artists from this area and we feel we have achieved this with the exhibition. We have given local people the opportunity to have their work shown in the gallery or contribute objects to it. The exhibition features something for everyone. You can visit with your children, parents and grandparents and all find something that resonates with growing up in the area. It really is not to be missed".

Since opening in October last year, Localism has proved to be very popular but time is running out to experience all the wonders it has to offer. The exhibition will end with a closing event on 7 February from 12.00pm to 6.00pm, where contributors to the project will gather to celebrate the show and to also begin discussions on building its legacy.

Closing event for the exhibition:

Localism Closing Party
7 February 2016 12:00pm – 6:00pm
Everyone is welcome

Join us for the closing of Localism in which we come together to celebrate new friendships and stories told. The afternoon offers a mix of food, music, performances, making sessions and curator-led tours of our current exhibitions.

Performers include a heady mix of Marske Fishermen's Choir and Kingsley Chapman and The Murder. We are also hosting a number of drop-in workshops with Dot Seddon leading weaving sessions and Emily Hesse working with visitors, to decorate ceramics made in the New Linthorpe workshop during Localism.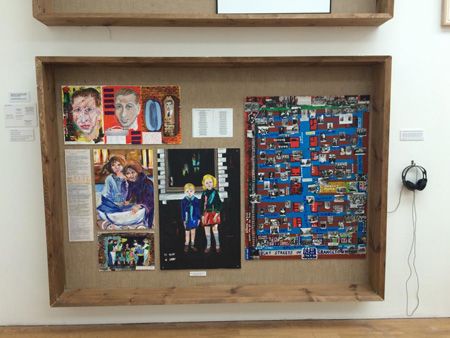 To rate this article select the number of stars you think perfectly rates this article.