Hartlepool's 'Elephant Rock' brought back to life at mima
By Sarah Smith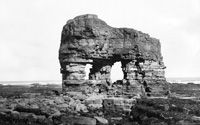 Middlesbrough Institute of Modern Art (mima) continues its engagement with drawing, on this occasion by presenting Newcastle-based Keith McIntyre's latest exhibition, Moladh Elephantus.

Within the exhibition McIntyre investigates processes of coastal erosion, particularly rock formations, through Hartlepool Headland's 'Elephant Rock'. Using drawing, McIntyre examines this natural phenomenon by offering a eulogy for this lost, but not forgotten, icon of Hartlepool.

For several decades, the Elephant Rock stood guard out on the Hartlepool headland. Carved from millennia of coastal erosion and cliff mining, the limestone geological feature eventually collapsed into the sea in 1891 following a storm. All that is left are its 'feet', a few protruding weathered stones where the gentle giant once lived.

Referencing early photography, McIntyre reimagines the Elephant Rock through a series of new works, taking inspiration from engravings or postcards, some of the representational techniques that shaped the modern imagination.

Moladh Elephantus is part of drawing?, a programme of exhibitions, events and activities in the North East which examines the role of drawing in art, culture and the everyday. drawing? is a collaboration between Teesside University, University of Sunderland, Northumbria University and Newcastle University.

mima Curator, Alix Collingwood-Swinburn, said: "Moladh Elephantus is the third and final instalment in the drawing? series and gives the public another chance to the importance of drawing not just as an art form but in all areas of life. drawing? has been a huge success, showcasing the region's creative outputs at a time fitting to us in our current transformation as the useful museum, a civic institution that promotes art as a tool for social change."

McIntyre is renowned for a practice that crosses over a range of studio-based work and collaborations with performance artists and organisations. The application of drawing to an exploration of landscape and identity is central to his research and evident within the themes presented throughout Modalh Elephantus.

Keith McIntyre said: "Drawing is central to my practice. In this exhibition there are a number of mural scale ink drawings on giant easels re-imagining the giant Elephant Rock that used to be on the Hartlepool Headland. There are also postcards from other Elephant Rocks located around the world. The research process fascinates me and in a large display case are associated images and drawing processes demonstrating working ideas and methodologies."

Showing until 31 January, Moladh Elephantus is open to the public alongside mima's exhibition Localism. A fitting exhibition with concurrent themes, Localism is an exhibition about history, visual culture, politics and making in Middlesbrough using crowd-sourced contributions from the town. It includes an eclectic mix of artworks, artefacts, archival materials and personal documents alongside regular talks and workshops hosted by resident artists.

Accompanying the exhibition are a number of events:

Eulogising stone and place: Keith McIntyre
20 January 2016, 5.30pm – 6.30pm
Keith McIntyre explores the history of rock formations similar to Hartlepool's Elephant Rock. He discusses our kinship with geological features in our landscapes, including how best to capture these sites before they inevitably pass away.

Keith McIntyre: public lecture series with Teesside University Fine Art Programme and mima
12 January, 4.00pm – 6.00pm
Keith McIntyre discusses his practice, particulary his latest work, Moladh Elephantus. This public lecture takes place in the Constantine Lecture Theatre, Teesside University.
To rate this article select the number of stars you think perfectly rates this article.