A Few Musical Highs from 2015
By Robert Nichols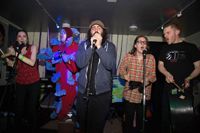 It has been another big year for music on Teesside and though it hasn't quite finished yet I thought I would beat the field in looking back over a few highlights from 2015 and maybe a couple of recommendations for Christmas gifts. Shy bairns get nowt.
There was no Stockton Weekender or Middlesbrough Music Live this year, a sign of the times, sadly. Yet Stockton Calling continues to go from strength to strength and is now an Easter weekend staple. I loved watching Misty's Big Adventure bringing the Narc Green Room stage to a frantic climax. The Brummie band's 2 minute novelty ode to ducks proved so popular, the crowd refused to go home before they repeated it. I've Often Been Fond of Ducks is now available on the new limited edition Misty's Big Adventure, How Not To Get Into The Music Industry four track EP. Highly recommended. I am currently weighing up whether to drive down to the Hare and Hounds in Birmingham for their annual Christmas Eve cracker of a show.
Twisterella was the other great multi venue music festival, now really establishing itself bringing the best of breaking national and international bands to Middlesbrough to rub shoulders with some of our finest live acts. Hyde and Beast from Sunderland were outstanding. Their energy and enthusiasm makes them infectious viewing and listening. You could do far worse than pick up their recent album release, Keep Moving.
Time to give a mention to some significant appearances of local acts and Kingsley Chapman and the Murder made a massive impact both live and on record. Now busy making a name for themselves out and around the country, including that London, the local stars of Twisterella threaten to take 2016 by storm.
Talking of which Cattle and Cane cut a wonderful album, Home, this year and really hit the spot at the wonderful Deershed Festival. Their album launch at Teesside University was perhaps the must see gig. Next year will see them become every bit as big on the national stage as the household names they have become by the Tees.
He is currently out on Maximo Park's 10 year anniversary tour (since the debut album) but with The Intimations, Paul Smith released a quality second "solo" album, Contradictions, with a memorable tour starter at the Georgian Theatre. A big word also for the support that night, JP Riggall. You need to all demand that the Broken Broadcast singer makes his brilliantly atmospheric, The Long Dark Bright, solo album available for us all to purchase. It could be compelling listening for a moody Christmas Day morning.
Hats off to The Purnells. They released their third album at The Georgian Theatre, just last month. It was a night of musical theatre and the album is most defintely their best to date. Black Dog Laughing is quite outstanding in fact.
Talking of new releases Serinette's single launch in the Studio at Arc was pay what you decide. The audience lapped it up and the collection bucket was full of folding money at the end of an outstanding performance from Louise and the gang.
There was also a wonderful festival from the Into Tomorrow gang at TSOne pub the highlight of which for me was Jordan Bell of Avalanche Party playing his guitar outside on Southfield Road. Unforgettable.

Thank you for indulging me with an early look back over a few highlights from 2015. Apologies to the many I have missed off the list but talking of lists I hope that I have given you a few pointers for Christmas purchasing.
See you one last time in 2015 next Friday.
Photos by Tracy Hyman of Misty's Big Adventure (above) and Cattle and cane at Deershed.
To rate this article select the number of stars you think perfectly rates this article.