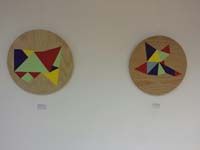 Last Friday there was a special preview event for Traverse exhibition. A Free event to tie in with the Don't Be Afraid of the Dark launch of Discover Middlesbrough. A fascinating opportunity to meet the artists and hear them discuss their work. But the exhibition continues so please do take a look and I will mention a few comments below from the night.

This exhibition looks at how maps and journeys have informed the current work of artists Emma Bennett and Jan Sopher. The artworks complement each other in relation to their materials, processes and methodologies. Old maps and prayer flags encounter marker pens and stitched messages in a show that unites the artists' individual practices. For more information www.pythongallery.co.uk
I love the way we are directed from maps to objects. We see codes of the map maker and how they relate to ancient runes and other ways of communicating geography, landscape and actually just other ways of communicating.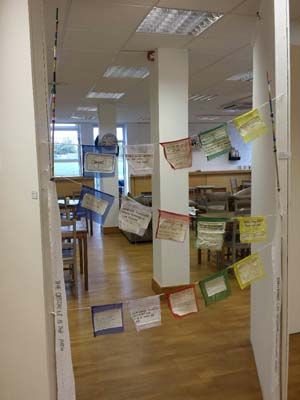 Emma's work is always intriguing, her secret landscapes of the mind. We can relive with her journeys she has made in the past and picturing what her eyes have seen and the places and faces she has interacted with.
Talking of interaction when Emma takes her colours and shapes from the vintage maps and applies them to wooden boards, the grain of the wood shows through like contours and the shapes stand out like 3-D. They have their own architecture, space, depth and presence.
Jan has taken the circular, global motif from Emma's wood based artwork and created some of her own journeys. They are literal journeys with tickets or journeys of the mind etc.
Pictured left are some recreated
Buddhist Prayer Flags. Positive messages from different people adorn the flags that were alllowed to weather outside to look authentic. They will be burned to send the messages into the ether after the exhibition closes.

Do get along to view the joint exhibition as it continues for the remainder of the month. There is a really nice cafe now in the Python Gallery. It is a nice space to relax, just 5 minutes walk from the railways station or Middlesbrough College.

Python Gallery
Royal Middlehaven House Gosford Street, TS2 1BB
Private View
Fri Tonight 6pm - 8.30pm
FREE
To rate this article select the number of stars you think perfectly rates this article.