Waiting On Anna and Elizabeth
By One Giant Leap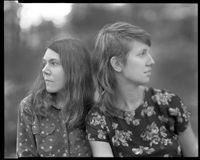 Anna & Elizabeth bring their intimate and haunting traditional music and mesmerizing multi-media show to the United Kingdom for the first time, this May. And we're proud to welcome them to the Waiting Room!
The American duo, based in rural Virginia, springs from the unique talents of Anna Roberts-Gevalt (fiddle, banjo, guitar) and Elizabeth LaPrelle (ballads, banjo), and their shared desire to inspire people with the beautiful soul of Appalachian roots music. Powerful harmony singers steeped in knowledge of mountain tunes, ballads and stories, these young women are gifted storytellers and visual artists reviving the lost art of 'crankies', scrolling storyboards made of sewn fabric or cut paper.
The duo self-released their first album Sun to Sun in 2012, and are now promoting their self-titled second album. Anna & Elizabeth, on Free Dirt Records, is a collection of sixteen traditional songs thoughtfully gathered and interpreted, guiding listeners through the duo's intense personal connection with each song, for an experience that is as warm and intimate as their one-of-a-kind live performances.
'Elizabeth's voice fits perfectly with Anna's, while their guitar, fiddle and banjos are deployed sparingly and expertly. This is direct and honest music, lovingly crafted by two expert practitioners who share a deep empathy both with their beloved regional musical traditions and with each other' -fRoots Magazine, 2014
'There's something truly inspiring about this collaboration… and a very special treat for anyone that gets excited witnessing culture carried forward with mastery, love and a profound and real understanding of what makes old material great' - Sing Out Magazine, 2013

Support comes from Waiting Room favourites Cath and Phil Tyler. Presenting traditional songs from both sides of the Atlantic, US-born Cath and adopted North-Easterner Phil Tyler are one of the UK's most acclaimed folk duos… bringing together a mutual love of traditional narrative song, full-voiced sacred harp singing and sparse mountain banjo. They're performed on stages as diverse as the Royal Opera House and – in the own words – 'a dank tower in the old city walls of Newcastle', and their albums The Hind Wheels of Bad Luck and Dumb Supper have earned widespread acclaim.
This show comes hot on the heels of two successive packed houses for the brilliant Dressed Like Wolves and Hold Music and just last Sunday the awesome Tom Joshua and the stunning George Boomsma.
The reputation is growing and the word is spreading by the week for this intimate and atmospheric venue. I can also personally vouch for the cuisine as well should you choose to order. With a homely welcome on the door from BBC Introducing's Bob Fischer you are off to a cracking start.
Join in the fun this Sunday with an all star, international folk line up.
'Raw, emotive and exquisitely sparse' – Bright Young Folk

'Every guitar stroke sounds as if it will be the last one, even when it's the opening note of a song' – Uncut
Sunday 17th May
Anna and Elizabeth + Cath and Phil Tyler
All the way from South West Virginia… haunting traditional US folk from this acclaimed young duo. 'Truly inspiring' – Sing Out
£8 – 8pm – All Ages
The Waiting Room, 9 Station Road, Eaglescliffe, Stockton-on-Tees, TS16 0BU
01642 780465
To rate this article select the number of stars you think perfectly rates this article.