Public Enemy Weekender
By Robert Nichols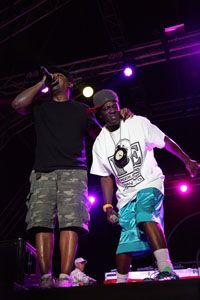 Public Enemy on stage in Stockton on Tees, could you really believe what you were seeing and hearing on Sunday night? How on earth do you follow that?
I don't really know enough about Public Enemy to fully dissect their performance. If you were not present you could be forgiven for saying Don't Believe the Hype but this was not mere hyperbole this was a tidal wave of energy and unbottled passion that swept us off our feet; Stockton might never be the same again. That was epitomised by Flavor Flav leaping off stage and racing around the crowd with his clock around his neck spreading messages of peace and reconciliation.
Before Public Enemy, Reverend and the Makers celebrated their mid-life revival, in the band's own words, by prompting the whole crowd to bounce like their lives depended upon it. It was a massive audience that had clamoured to that green apron of ground by the Tees all weekend long to support local and international acts alike.
Yes, the crowds flooded down from the very start on Saturday to hear the mighty roar from Avalanche Party opening the main stage followed by the psychedelia of Silver Trees on the adjacent Thirteen Stage. The twin stage set up meant there was no let up in the music and those local gunslingers Abel Raise the Cain were soon pushing their music to the very limits. Goy Boy McIlroy would climax their full on frenzy by their singer taking an excursion from the stage to be witnessed on the big screen grabbing a seat on an unclaimed deck chair mid audience.
I will fast forward to Sunday and the sparkling guitar choruses of the mighty Palace, playing a final hurrah before returning with a new name. My real highlight of the two days was Peter Hook and the Light. Even a badly cut finger didn't prevent Hooky from orchestrating an unexpectedly powerful rendition of Joy Division and New Order that was actually very moving as well as uplifting. The set included Transmission, Isolation, She's Lost Control, Blue Monday and a final epic rousing Love Will Tear Us Apart. Wow.
Let's give some praise to one of the unsung heroes of Stockton Weekender and the Riverside Festival Fringe before it, programmer Andy Kelly. Andy was the man with the vision and determination to go out there and bag Happy Mondays, Peter Hook, Martha Reeves and Public Enemy for a phenomenal top of the bill.
Stockton Weekender has proved once again that the appetite for live music is stronger than ever in our area and the bar has been set very high for future events.
Photos - Tracy Hyman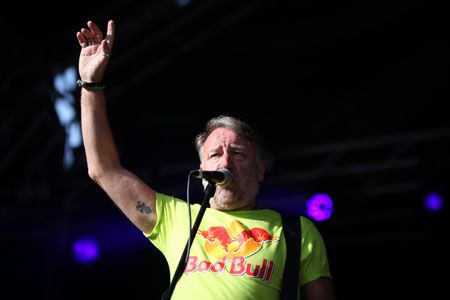 To rate this article select the number of stars you think perfectly rates this article.