OUR BIG GIG RETURNS FOR THIRD YEAR IN MIDDLESBROUGH
By Andrew Pain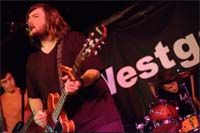 A popular free music event is returning to Middlesbrough for its third year this weekend (Sunday, July 13).

Part of a nationwide celebration of music, Our Big Gig aims to put music into the heart of communities and give local groups a chance to showcase their talent.

Middlesbrough's event is organised by Mick Durdan of Parmo Music Agency, in partnership with the Department for Communities and Local Government and Superact CIC, and is being supported locally by Lorne Street Studios, Serendipity Cleaning Ltd, Middlesbrough Council Cultural Services and Sabic Petrochemicals.

The line-up for the Town Hall Crypt show includes music from a wide variety of genres, from indie to blues, rockabilly to acoustic.

The acts taking part will be Skinny Legs, Mondays Company, Jacques and the Giants, Village Green Music, The Ignitors, The Wainstones, Lewi Collins, Clive Birkbeck, Bradley Earl Naughton, and Joe Durdan.

The organisers and musicians have all volunteered their time to be part of the event and help celebrate local talent.

The event is just one of many great music events happening in Middlesbrough this year, including Middlehaven Festival, Middlesbrough Live and Twisterella. For further details see www.lovemiddlesbrough.com/whats-on
Our Big Gig will take place in The Crypt in Middlesbrough Town Hall on Sunday, July 13 from 1pm to 6pm.

Our Big Gig strives to be a family event. There will be the opportunity for fans to meet the musicians, buy merchandise, browse charity stalls and view artwork from local artists. The café will be open for light refreshments, including tea and coffee, soft drinks, crisps and sweets.

Entry is free and everyone is encouraged to come along to help make the event a success.

Table space may be available for local artists or charities. For more information call Mick Durdan on 07545 373238
Photo top - Village Green by Tracy Hyman

To rate this article select the number of stars you think perfectly rates this article.