SPLIT Festival Full Line Up
By Martyn McFadden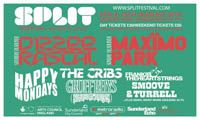 Split Festival, Sunderland City centre music festival, curated by the Futureheads have added Simon & Oscar of Ocean Colour Scene (Acoustic) to perform their indie classics and Tom Vek to complete their super strong line up, which already boasts Dizzee Rascal, Maximo Park, The Cribs, Gruff Rhys (Super Furry Animals), Smoove &Turrell, Frankie & The Heartstrings, Hyde & Beast and The Lake Poets.

Ross Millard, who curates the event, had this to say: "We've had a lot of people request the booking of Simon & Oscar of Ocean Colour Scene for this year's event. I think they'll bring some big, festival singalongs to Split this summer. Simon's voice is one of the most recognisable in modern music, so it's great that he'll be belting out the hits across Mowbray Park in August. It's also great to get Tom Vek up to Sunderland for Split - our audience appreciate artists like Tom who have retained a DIY ethic. Off the back of his new album I'm looking forward to seeing a great show. Stage 2 is going to be seriously hard-rocking at Split this year."

Festival organiser, Barry Hyde, added: "With forty bands, across three stages, the line-up this year is our strongest and most eclectic yet, it's the most crucial aspect of the whole festival and now it's all complete I can't wait to see it happen."

Full Line Up

Saturday
Dizzee Rascal
Simon & Oscar from Ocean Colour Scene (Acoustic)
Tom Vek
Smoove and Turrell
Bleech
Hyde & Beast
Punishment of Luxury
The Lake Poets
Lisbon
Nightflowers
Gallery Circus
Big Beat Bronson
Kobadelta
Shades
Goy Boy McIlroy
Cold Committee
Son of Jack
Schultz
Waste of Space
The Firelight Opera


Sunday
Maximo Park
The Cribs
Gruff Rhys (Super Furry Animals)
Frankie & The Heartstrings
The Twilight Sad
School of Language
Boy Jumps Ship
Bad Breeding
Lovepark
Shy Nature
Symphonic Pictures
Lilliput
Young Liar
Sons of Bido Lito
Tissue Culture
Barry Hyde
The Generals
Cohesion
Iceni
So What Robot

Tickets are priced at £30 per day, £50 weekend. Under 11s go free with a paying adult.

The Sunderland based event is being brought forward in the calendar, from their normal September time slot, right to the middle of the summer, with Split 2014 happening on the weekend of August 9 and 10. For more info see www.splitfestival.com

Split Festival will announce their Family Zone and Beer and Food Festival information in due course... For further info and interview requests contact press@splitfestival.com or visit www.splitfestival.com
To rate this article select the number of stars you think perfectly rates this article.