Get Down With General Sherman
By Rob Nichols
Join Teesside band General Sherman as they celebrate the launch of their debut album tonight with release party gig at the Westgarth Social Club.
General Sherman release their debut album "Get Down with General Sherman" this evening, recorded by Matt Brown who will also be supporting with his band Dressed Like Wolves. Also on the bill will be good friend of General Sherman, James Kruman and Village Green. Oh and there could well be other special guests as well.
The boys and girls from General Sherman have really made a mark on the local scene since springing into action from the operating the door and working behind the bar in the Westgarth. Some of their debut album has also been recorded in and around the social club so it is very apt that it will be released on the premises. All in all they could be said to be the first musical baby of the Westgarth era.
General Sherman have a musical style that is tricky to pin down, which is a real feather in their cap but not good for me in telling you what to expect. They are a fusion (sorry for use of an ugly word) of folk, country, indie and even perhaps classical influences. The two vocal styles of Clare and Jonathan could hardly more contrasting. Clare always the performer, Jonathan the more laid back musical whisperer.
There are strings too and woodwind augmenting songs underpinned by a craggy bass and subtle percussion.
But songs are striking, you don't get many bands dissecting a chapter of a book, Last of the Mohicans.
There is a real charm and poise about the band but on closer inspection much of the material on the album charts a descent into a very place, getting down with General Sherman. Although the band do reckon there could be a saving grace, silver lining towards the end.
"The songs themselves, everyone plays their part in writing the songs," Singer/guitarist Jonathan Horner told me. "We all come from different places and different people. We struggle to settle down on a sound and then we decide we don't really need to. Why should we? If we have got all these different things going on, embrace it and make the most of it."
General Sherman play the Westgarth Social Club this evening to launch their debut album Get Down With General Sherman.
7pm start. Just £4 on the door
Photo - Tracy Hyman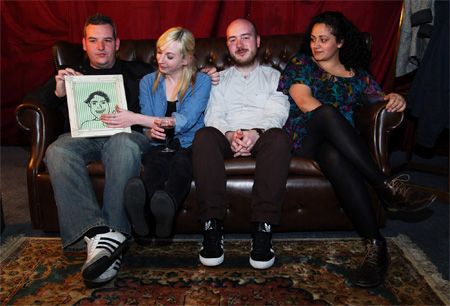 To rate this article select the number of stars you think perfectly rates this article.