APACHE INDIAN SINGS PRAISES OF MIDDLESBROUGH MELA
By Dave Allan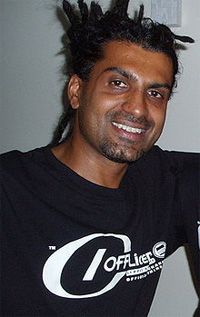 BRIT Award nominee Apache Indian has revealed that Middlesbrough Mela has a reputation that reaches across the UK and beyond.

The reggae and bhangra raggamuffin star is top of the bill on the Mela's main stage on Sunday as the two-day multicultural extravaganza reaches its climax.

Up to 50,000 visitors are expected to converge on central Middlesbrough on Saturday and Sunday (June 7 and 8) for the annual celebration of culture and diversity.

Supported for a third successive year by Middlesbrough College, big crowds are also expected to turn out for the Mela's music acts, Team PBN, Aman Any, Oshin Mehta, The Shama Rahman Band, Intenso, San2, Hussnain Lahori and the Bollywood Belles.

Hosted by actor, director and presenter Ameet Chana – of Eastenders and Bend it Like Beckham fame – the Mela main stage will be the central focus on Sunday afternoon after a Saturday event centred around health and wellbeing.

Apache Indian has sold 11 million albums world, whilst enjoying seven UK top 40 hits, so he is expected to be a huge hit at the end of seven hours of musical performances.

Looking forward to the event, the reggae and bhangramuffin star said: "It's been a few years since I've been to Middlesbrough but as soon as I heard about the opportunity I was enthusiastic because I know how well the town's Mela does.

"I know the Mela is strong in the Middlesbrough community and that it stands for everything that is right – multiculturalism, community cohesion, breaking down the barriers.

"It's all the things that I've been promoting for many years now. I'm a great believer that music brings people together. I don't get too political but I want communities to work together and do well, to achieve results by unity. I think Middlesbrough Mela does that well."

The star, who promises to perform his major hits, including Chok There, Boom Shack-a-Lack and Arranged Marriage, added: "It's great because people hear these songs and they will say 'It reminds me of when I was a kid.' I'm coming to perform and to meet people and I might have to get a few people up dancing with me!"

Taking place on both Saturday June 7 and Sunday June 8, 12 midday to 7pm, the event is organised by Middlesbrough Council in conjunction with a steering group comprising members of the local community. Entry is free of charge.

Along with Middlesbrough College, sponsors include Thirteen, Healthy Living Pharmacies, Middlesbrough and Teesside Philanthropic Foundation, Cleveland Police and Teesside University.
To rate this article select the number of stars you think perfectly rates this article.