Stockton Weekender Makes The National List
By Ciara Johnson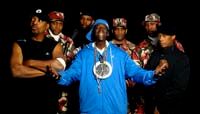 Festival makes national list as Happy Mondays, Public Enemy, Shed Seven, Martha Reeves, Peter Hook and more get set for Stockton Weekender 2014
The North East's leading outdoor music festival, Stockton Weekender, returns for its fourth year on Saturday 26th and Sunday 27th July.
The event organisers Tees Music Alliance (TMA) are delighted to reveal the events headline acts as 'Madchester' legends Happy Mondays and American hip-hop champions Public Enemy, their only North East dates this Summer.
With fifty plus acts set to play across four stages, and major acts such as Shed Seven, Reverend & The Makers, Martha Reeves & The Vandellas and Peter Hook & The Light, this year cements the festival as a not to be missed event for any music lover, with the added kudos of national broadsheet, The Guardian, naming Stockton Weekender as one of their "Best Boutique Festivals of 2014".
Festival Director Paul Burns of Tees Music Alliance said "We know what a great event Stockton Weekender is and how much work our team puts into the organisation of it all – so it's really nice to get a mention in such a prestigious publication as The Guardian's Festival Guide – which is now accepted as the most influential of the national guides.
It demonstrates that the festival is making its mark – and we can all feel fortunate that we are able to produce it right here on our doorstep"
The highly influential, and leaders of the 90s rave/dance culture, Happy Mondays headline the Main Stage on Saturday 26th. The band will be performing classics such as 'Kinky Afro', 'Step On', '24 Hour Party People' and 'Loose Fit'.
The anthems continue with Britpop innovators, and creators of mammoth hits 'Going For Gold', 'Chasing Rainbows', 'Disco Down' and 'On Standby', Shed Seven and Motown legends Martha Reeves and The Vandellas, famous for 60s anthems '(Love Is Like a) Heat Wave', 'Nowhere to Run', and 'Dancing in the Street' also sharing Saturday's Main Stage.
Sunderland's sixties-laced blues rock duo Hyde & Beast, Teesside's purveyors of sun-drenched indie pop Collectors Club, sultry pop sensation Laurel, Arcade Fire inspired quintet Abel Raise The Cain and hard hitting garage-punk act Avalanche Party complete the line up.
The Thirteen Stage, which sits alongside the Main Stage, will welcome Sunderland's sixties psych act New Electric Ride, former Seahorses frontman Chris Helme, folk-rock five piece Lilliput, intricate and engulfing soundscapers Weird Shapes, foot-stomping blues rock act The Purnells, blistering alt blues quartet Goy Boy McIlroy and Hartlepool's hypnotic psych rockers Silver Trees.
The Wunderbar Tent will be filled with a variety of music and comedy acts over the weekend. Providing the entertainment on Saturday night is the ten man strong gypsy-blues festival legends The Urban Voodoo Machine. Newcastle's The Suggestibles also line up on the Saturday night with their "never two shows the same" improvised comedy set.
Japanese musician and artist ICHI, soul fuelled cover band The Funk Collective, mashing band Dinnernanny, easy listening folk trio Little Mirrors and thought provoking raconteur Joe Solo also feature. The tent will be opened on Saturday and Sunday by Wunderkind, a project being ran by TMA and Trinity Catholic College, which will feature the college's students showcasing their talents.
Saturday also features the Sonic Union stage over at The Georgian Theatre, bringing the finest alternative, psychedelic acts from the North East. The stage will be headlined by Newcastle's freewheeling electric rock & rollers The Dead Indians and will also feature Teesside's post-punk get up Cellar Door, Newcastle shoegazers High Tide 15:47, indie-psych-rock Kobadelta, newcomers Fleckt Pets present their fast paced indie with a post-punk twist and Teesside's proprietors of heavy, gloomy blues The Gares reunite for a special show.
On Sunday 27th July the Main Stage welcomes more illustrious artists to entertain the masses. The multi-platinum selling Public Enemy head to the Riverside with one of the most impressive back catalogues in rap music. Named in Rolling Stone Magazines 100 Greatest Artists of All Time and inducted in to The Rock and Roll Hall of Fame in 2013, their performance is set to go down in Teesside history.
Heavyweight Champion of the World hit makers Reverend and The Makers, former New Order and Joy Division bassist Peter Hook brings his latest project, Peter Hook & The Light to the Riverside, with a set crammed full of his former bands hits.
Former Glastonbury headliners Smoove & Turrell, blues rock duo Gallery Circus, Hartlepool juggernauts The Jar Family, 1960s psych-pop inspired The Sons of Bido Lito and toe-tapping pop rockers Andy Jones & The Norton Rockets complete the stages line up.
Glaswegian trio The Amazing Snakeheads are 2014's one to watch, having created a huge buzz with their intensely palpable live performances and critically acclaimed debut album. They headline Sunday's Thirteen Stage line up, with the explosive Red Kite, melodic rockers PALACE, Aussie post-punk trio Dark Bells, Baroque'n'Roll quartet By Toutatis, Teesside's favourite genre engulfing act The Panoramic and the female-fronted, sound fusing Serinette all set to perform throughout the day.
Comedy behemoth and TV sensation Lee Nelson will headline Sunday night in the Wunderbar Tent, with punk rock party band The Gimme Gimmicks warming the crowd up before hand. Former The Christians and Yachts singer-songwriter Henry Priestman, gypsy folk-rock quartet Holy Moly & The Crackers, psych laced blues duo The Unproven, Middlesbrough hip-hop duo Leddie and Smoggy and the sampling, vocal layering and guitar percussion weaving Paul Liddell also feature.
As well as music and comedy, Stockton Weekender also offers a shopping village, stocked with festival goodies, vintage clothing and jewellery and a music stall ran by Sound It Out Records, and a free festival photo booth – this year in the shape of a VW Camper Van.
Tickets are priced £32.50 a day, £50 weekend and £80 for weekend and camping.
The family friendly event, which offers a children's activity tent and is renowned for its relaxed atmosphere, will once more offer two free Under 14 tickets for every adult ticket purchased.
Camping is also available, located close by to the scenic surroundings of the Tees Barrage, at an additional cost of £30 on top of a Weekend ticket price.
Other price ticketing initiatives festival organisers Tees Music Alliance (TMA) have introduced this year are a 20% discount for Stockton Borough residents and the option to pay in instalments.
Festivalgoers can reserve their tickets with a £10 deposit (per ticket) and then pay the rest off as they can, as long as it's all paid for by 25th July. This option is only available over the phone or in person and is subject to terms and conditions.
Tickets are available online from www.stocktonweekender.co.uk or call 01642 606525.
To rate this article select the number of stars you think perfectly rates this article.