LOCAL GALLERY CALLS FOR SUBMISSIONS FOR TEES HERITAGE EXHIBITION
By Angus Hoy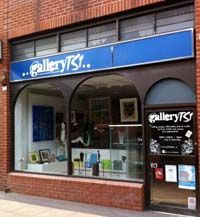 A new working relationship with The Secret Artists' Company is bringing a new era to Middlesbrough's Gallery TS1.

The popular town centre venue is now on the look-out for new artists and particularly craftspeople and artisans to show their work between now and September.

The gallery will continue to showcase the work of local artists and artisans, and a programme of exhibitions and events will celebrate the area's local heritage and the best of contemporary life in the Tees Valley, alongside the work guest artists from outside the area, and events such as music and poetry readings.

Gallery TS1 Chair Carol Newmarch said: "The Secret Artists' Company is a not-for-profit organisation, which will offer creative workshops courses and events, as well as professional mentoring and coaching for creative businesses.

"The new company will be officially launched in the autumn, but meanwhile the collaboration is already bringing new initiatives."

The gallery continues to be supported by Middlesbrough Arts Development Team and a collaboration with the £2.6m Heritage Lottery Fund-supported Tees Transporter Bridge Visitor Experience Project over the summer brings a season of new selling exhibitions and local artists are encouraged to apply to be included.

In May, there will be new show of art inspired by the River Tees and the heritage of the Tees Valley.

Looking Back: Facing Forward will open on Thursday, May 29 and will run until the end of June, with an open call for artists who would like to contribute to this theme. Deadline for entries is Thursday, May 22 at 5pm. Deadline for delivery of selected work is Saturday May 24.

Tees Transporter Bridge Education, Learning and Events Officer Tosh Warwick said: "Gallery TS1 is an asset to the town and is a fantastic platform through which the heritage and history of the area can be championed, while the gallery also provides an opportunity to view and purchase work by local artists in the centre of Middlesbrough.

"The Tees Transporter Bridge is delighted to be able to support this new development by working with Carol and the Gallery Team."

The 'summer' show will run from the begin in of July until the end of August. Deadline for entries is Sunday, June 22 and deadline for delivery of selected work Saturday, June 28.

Please direct both expressions of interest and submissions of work for Looking Back: Facing Forward to The Curation Team by email at info.galleryts1@gmail.com

Entries by digital image only, accompanied by name, address and mobile number along with a brief biography and a short description of your work.

Gallery TS1 is situated opposite Middlesbrough House at 57 Corporation Rd, Middlesbrough TS1 1TL.
To rate this article select the number of stars you think perfectly rates this article.