Deer Shed Literature and Spoken Word
By Lewis Jamieson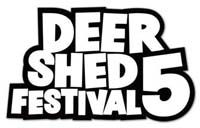 Deer Shed Festival is proud to announce a new arena for this year's festival. Our Literature program will bring the worlds of music, football and modern life into collision with a host of Victorian heroines via a line-up of authors to excite and intrigue.
The North Yorks festival headlined by Johnny Marr, British Sea Power, Stornoway and Wolf Alice and Cate Le Bon has just announced some big hitters from other fields. And I for one am really intrigued by the attempts of Dave Simpson to round up as many of The Fall ex-Fall members onto one stage to talk about life with and after Mark E Smith.

The author of The Sunday Times Pop Music Book Of The Year, member of St Etienne, all round audiophile, BOB STANLEY's love affair with pop music is long standing and well documented. His 'Yeah, Yeah, Yeah, The Story Of Modern Pop' is vast in scope, travelling from the birth of rock 'n' roll to the modern day through a plethora of genres and cultures propelled throughout by a deep love of and fascination with pop music. Bob will be talking about the book, and more besides with The Guardian's DAVE SIMPSON and will also be bringing his pop quiz to the festival to test your pop knowledge.
Dave will also be hosting the largest collection of ex members of The Fall yet to stand on one stage. The author of 'The Fallen', an exhaustive journey through the band's forty plus members, Dave will be in conversation with Steve and Paul Hanley, Mike Leigh and Steve Wolstencroft on their experiences with Mark E Smith.
Bradford's somewhat overlooked music scene will be back in the spotlight with authors GARY CAVANAGH and MATT WEBSTER when they discuss their 'Bradford, Noise Of The Valleys', taking in the diverse likes of Smokie and New Model Army alongside metal 'titans' Bad News. From Bradford a short hop to Leeds brings us the fascinating tales of HEIDI HEIGH, forty years a Leeds United fan as she talks football, pies and the changing place of women in the game with reference to her 'Marching On Together'.
Fiction gets in on the act with a trio of acclaimed authors. SAMANTHA ELLIS delves into her exploration of the female heroine through the ages, 'How To Be a Heroine' in discussion of the role models provided by the likes of local lass Cathy Earnshaw and Jane Eyre whilst Costa shortlisted STEPHEN MAY tells us 'How To Wake Up Happy Every Day' with reference to his latest novel and hosts a workshop, 'Getting Going, Keeping Going: A Masterclass in Fiction Writing' for beginners and the more experienced alike. Completing our trio, SUSIE STEINER, a former journalist who has written for The Guardian, Times and Evening Standard, will discuss family and farming in fiction in relation to her 'truly exceptional' (The Observer) debut novel 'Home Coming'.
PG COMEDY
It seems so obvious that a family festival would need PG comedy but we are still the only ones to do it. This year we have another host of well-known names bringing special sets to our comedy stage so that all the family can join in the laughs.
ROB ROUSE will be familiar to viewers of (deep breath) '8 Out Of 10 Cats', 'Celebrity Juice', 'The Friday Night Project' and more. PAUL TONKINSON is an equally well-known name, whether from 'The Big Breakfast' or 'Comic Relief', twenty years of stand-up have made him a master of the art. Other familiar from TV Faces this year are GARY DELANEY ('Mock The Week'), STEVE ROYLE ('Phoenix Nights'), ALFIE MOORE ('Show Me The Funny'), STUART GOLDSMITH ('CBBC's 'The Mission 21110') whilst Radio 4 comedy buffs will be more than accustomed to BOOTHBY GRAFFOE and STEVE DAY. With WEZ ZARAHUK's mix of Film Noir, vaudeville and power tools and PETER ANTONIOU's psychic comedy (all will be revealed) rounding off the bill this promises to be the greatest PG laughter show on earth.
SHOWS FROM THE EDINBURGH FRINGE 2013
We went to Edinburgh last year and have come back with a clutch of shows that really made our festival.
RACING MINDS bring their sell out comedy improv to Deer Shed with three shows over the weekend. Victorian magicians MORGAN AND WEST get onboard with our time travel theme and zap us through the eras with their dazzling deceptions and unparalleled precognitive powers. IAN D MONTFORT is a spookily skilful, wonderfully observed and hysterically funny psychic medium from Sunderland. Eagle eyed audience members may remember him from his hysterical turn on 'Knowing Me, Knowing Yule' with Alan Partridge whilst we can all follow ALICE DOWN THE RABBIT HOLE for an interactive storytelling experience. MUD PIE ARTS are taking our Time Travel theme as their starting point to make a map of the future, the year 2181 to be precise, asking us to join them in deciding who rules the planet and how we live on it. The THINGUMAJIG PUPPET SHOW are on site to weave stories around love, play and eventually, how to say goodbye whilst HOUSEMARTINS guitar legend STAN CULLIMORE will join up with poet PAUL COOKSON to produce an award winning and gut busting belly laughing kids show filled with daft songs, catchy choruses and a couple of crazy looking ukuleles.
CINEMA
Sunday is the perfect day for easing into our cinema programme, all based around this year's time travel theme.
MR PEABODY AND SHERMAN (U)
Mr. Peabody, the most accomplished dog in the world, and his mischievous boy Sherman, use their time machine - The WABAC - to go on the most outrageous adventures known to man or dog. But when Sherman takes The WABAC out for a joyride to impress his friend Penny, they accidentally rip a hole in the universe, wreaking havoc on the most important events in world history.
BACK TO THE FUTURE (PART ONE) (PG)
The ultimate time travel movie? 30 years old this year yet still eminently watchable, if you don't know the plot then you really need to catch up. No matter how many times you catch the Chuck Berry scene it still rocks.
DALEKS INVASION EARTH (U)
Peter Cushing is the Doctor. The Daleks are the original models that can't go upstairs and don't move too fast. Aiming to take over the earth in 2050 will Davros, leader of the Daleks, succeed in subjugating humanity or will the Doctor and his companions save the day?
THE CABINET OF DR CALIGARI with pianist extraordinaire DARIUS BATTIWALLA (PG)
The classic German silent horror with piano accompaniment will take our audience back to the 1920's of its release and the heyday of silent cinema and the German Expressionist movement. Two men on a park bench discuss the story of Cesare, a sleep-walking circus performer under the control of the murderous Dr. Caligari. But all, of course, is not quite as it seems.
WEEKEND TICKETS FOR DEER SHED 5 ARE ON SALE NOW, PRICED AS FOLLOWS
Adult Weekend Ticket (16+) £99 plus booking fee
Child Weekend Ticket (6+) £30 plus booking fee
Child Weekend Ticket (5 and under) £1 plus booking fee
Campervan / Caravan / Trailer Tent £30 plus booking fee
Tent camping and car park are free to ticket holders.
PLEASE NOTE – prices given for adult tickets relate to Tier 2 weekend tickets. There are a limited amount of tickets in each tier. When Tier 2 tickets are sold out prices will be as follows
Adult Weekend Ticket (Tier 3) £109 plus booking fee
Adult Weekend Ticket (Tier 4) £119 plus booking fee
FOR INFORMATION ON ALL ASPECTS OF THE FESTIVAL INCLUDING TERMS AND CONDITIONS RELATING TO TICKETS GO TO www.deershedfestival.com
To rate this article select the number of stars you think perfectly rates this article.