TVs Victoria Farm at Festival on The Moor
By Richard Grainger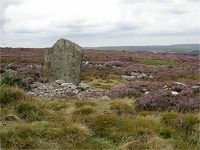 Festival on The Moor is playing host to John Kirkpatrick who recently took part in the popular TV series VICTORIAN FARM. You can see John on Sunday 25th May at Joan Of Arc Hall, Botton Village nr Danby.
Festival on the Moor's May Bank Holiday Weekend event will take place in the beautiful Botton Village, near Danby (YO21 2NJ). 15 miles from Whitby and 8 miles from Hutton le Hole, Botton is in the Esk Valley and is at the heart of the North York Moors National Park. Events will take place in the beautiful Botton Steiner School and stunning Joan of Arc Hall.
John Kirkpatrick is a winner of several BBC Folk Awards, is a former member of folk super-groups Steeleye Span and Albion Country Band.
In the TV series Victorian Farm John popped up now and again contributing folk songs, squeezebox tunes, dances and snippets of information about folklore and traditional customs.
The Victorian Farmer's Year in Song which John will perform at Festival On The Moor on Sunday 25th May includes songs about farmers, and songs sung by farmers; songs about the work on the farm, and songs to make that work easier; songs celebrating particular days in the country calendar, and songs celebrating the daily miracle of life, death, and renewal.
And the world we are shown here is not a romantic pastoral idyll viewed through rose-tinted spectacles-this is a world full of sweat and muck, a world with dirt under the fingernails, a world full of snorting, and grunting and heaving. And then there's the animals ...
The show is one of the many features of Festival On The Moor '14 an event fast becoming recognised as one the countries best small festivals. Now in its 13th year the Festival will be held in the farming community of Botton Village nr Danby appropriately right in the heart of North Yorkshire's farming country.
The festival runs between May 23rd and 26th and details of all the events throughout the weekend can be found online at www.festivalonthemoor.co.uk
To rate this article select the number of stars you think perfectly rates this article.