TRAAMS headed for Stockton venue
By Ciara Johnson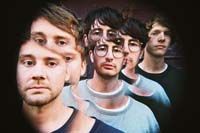 After their show stopping performance at Drenge's sell out show at The Georgian Theatre in February, frantic three-piece TRAAMS return to Stockton this Friday (2nd May) for an intimate performance in The Green Room.
TRAAMS formed in summer 2011 in the most unsuspectingly quaint surroundings of Chichester, West Sussex. They wrote one huge thunderous song during their first rehearsal that made spires quiver and cobbles wobble, and so decided to do this again every week.
The bands brand of urgent krautrock has seen them pick up tour slots with the likes of Fidlar, Temples, Hooded Fang and Parquet Courts. They recorded their first set of songs in November 2011 with Rory Attwell and continued to work with the producer throughout 2012. In February 2013 they recorded more songs with MJ from Hookworms at his Suburban Home Studio in Leeds to complete their debut EP, 'Ladders'.
Support comes from North East rock trio Atlas Wynd, who's punchy, loud, straight up rock is fuelled by driving guitars and full-force drums, and experimental, ambient and drone based project Electric Church.
Tickets are priced £6.50 in advance and £9 on the door. Tickets for all events are available online from www.georgiantheatre.co.uk, 01642 606525 or in person from Green Dragon Studios, all prices are subject to booking fees.
To rate this article select the number of stars you think perfectly rates this article.