Space Calling Stockton
By Tracy Hyman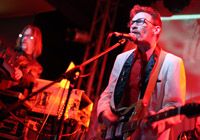 One month before their headline Ku Bar Stockton Calling slot I headed up to Newcastle to catch Space on their latest tour with Republica. The Ku Bar headliners proved they aren't just one of the many 90's throwbacks that have been cropping up over the last decade, but have a very relevant presence in the current music scene.
The intimate Academy 2 room was perfect for this gig. Two great 90's bands with new material out proving they are equally as innovative and relevant as they were when they started out. Space have always been unique, a bit quirky, and in their current form I was blown away; just the combination of the visuals on the screen behind, the mannequin in the corner, the keyboard player with LED antennae on his glasses, the other keyboard player wearing a fez. Cerys Matthews even makes an appearance, albeit her head on the screen behind giving a spooky duet for The Ballad of Tom Jones.
The audience were loving it and singing along to their many, many hits. As for their new stuff, it merged in seamlessly, title track of their new album Attack of the Mutant 50ft Kebab wonderfully weird and upbeat, with syncopated ska like beats and indian sounding synthesisers making the floor of the venue shake from the audience jumping up and down. Hit song Female of the Species has lead singer Tommy Scott dancing, waving his arms and moving his hips to the music, later going to the crowd in front of the barrier and inviting them to sing a line or two.
Republica headlined the night on this joint headline tour, the 20th anniversary tour from when they first started out. Singer Saffron has such great stage presence and has not changed in twenty years, still with the distinctive short bob with red fringe, jumping to the music and shaking her hair from side to side. They played old favourites alongside tracks from their recent seven track EP Christiana Obey. New song Hallelujah goes down particularly well with its dance beat, 80s style synthesisers and Saffron's distinctive voice providing wonderfully catchy vocals. Their powerful dance rock sound culminating in an encore of Ready To Go, one of those anthemic songs that you never tire of hearing. What is wonderful about this gig is that clearly both the bands and the audience are enjoying it immensely.
Catch Space at Stockton Calling on April 19th headlining the Ku Bar stage.
Words and pics - Tracy Hyman

To rate this article select the number of stars you think perfectly rates this article.