Deershed Things To Make and Do
By Lewis Jamieson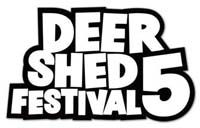 There is far more to do than watch top live music at Deershed Festival this summer. The award winning family festival headlined by Johnny Marr also hosts workshops and a science tent.
Having announced our strongest musical line-up to date and a very special literary moment with Miles Hunt, Deer Shed are thrilled to confirm details of our ever popular workshops for this year and a new addition in the shape of the Science Tent. Across the weekend there are a host of things to do for young and old from traditional crafts to augmenting your favourite teddy bear, building your own castle to creating the ultimate (and non-branded) Princess outfit.
With guests including Dr Marty Jopson, the BBC's go to science guy and a familiar face to viewers of 'The One Show', rockstar maker Paul Granjon and teams from Teesside University (forensics and cosmology) and Manchester University (robotics) alongside our usual gang of makers, helpers and inventors Deer Shed will, as ever, be a place of wonder and awe for the kids and possibly you as well.
Want to throw things around? We'll be making Lolly Stick Trebuchets and mini crossbows whilst our resident builder of extraordinary things, Terry, will be making a 20 foot trebuchet. Just as well that we will have Cardboard Knight clobber for the kids and a host of boxes and other bits to make small castles in case he decides to use his invention to do bad deeds.
Where there's a castle there should be a princess so we've gone down to S.C.R.A.P in Leeds and collected a load of beautiful fabric for you to slice up with our helpers and make your very own Princess costume. And not a Disney logo in sight!
Fast forward into the future and you can upgrade your favourite furry friend to a Tedroid. With a little help from Madlab in the Science Tent your old mate can go all 2.0 and acquire skills hitherto beyond the reach of the humble toy.
We'll be building the future too. With help from Manchester University's Robogals, whose mission is to encourage more girls into engineering, we'll be building working robots and making tiny Brushbots with vibrations motors. Then we'll be taking stuff apart with our deconstruction workshop. But we will make something new with it.
Time Travellers are always looking beyond the planet, it's in their nature, so it figures that we will be stargazing when the night sets in and we've borrowed not just a cosmodrome but also a planetarium for double dome fun during daytime hours.
Add to this all our usual favourites from badge making to clay modelling, drumming and circus workshops, the scrapheap challenge and a clutch of computer based programming classes and you have more than you could ever do in three days and our most extensive and engaging workshop program yet for kids both big and small.
As ever, Deer Shed will be for the whole family, continuing our well-earned reputation for being the festival where everyone enjoys their weekend. With headliners Johnny Marr, British Sea Power and Stornoway already confirmed alongside an amazing supporting cast featuring the hotly tipped Wolf Alice, Toy and Pins and award winner Georgia Ruth amongst many more the music stages at Deer Shed are ready for their finest year yet. In the coming months we will be confirming the bill for our spoken word stage and confirming the line-up for our PG rated comedy tent, still the only PG comedy tent at any UK festival.
WEEKEND TICKETS FOR DEER SHED 5 ARE ON SALE NOW, PRICED AS FOLLOWS
Adult Weekend Ticket (16+) £99 plus booking fee
Child Weekend Ticket (6+) £30 plus booking fee
Child Weekend Ticket (5 and under) £1 plus booking fee
Campervan / Caravan / Trailer Tent £30 plus booking fee
Tent camping and car park are free to ticket holders.
PLEASE NOTE – prices given for adult tickets relate to Tier 2 weekend tickets. There are a limited amount of tickets in each tier. When Tier 2 tickets are sold out prices will be as follows
Adult Weekend Ticket (Tier 3) £109 plus booking fee
Adult Weekend Ticket (Tier 4) £119 plus booking fee
FOR INFORMATION ON ALL ASPECTS OF THE FESTIVAL INCLUDING TERMS AND CONDITIONS RELATING TO TICKETS GO TO www.deershedfestival.com.
To rate this article select the number of stars you think perfectly rates this article.