ARTISTS AND BRIDGE FANS TURN OUT FOR LANDMARK LAUNCH
By Andrew Pain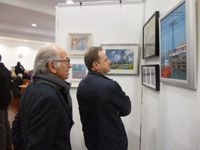 Artists, engineers and bridge enthusiasts all turned out in force for the launch of the Cleveland Art Society's 'The Green One and the Blue One' exhibition.

The event was held at The Heritage Gallery on Middlesbrough Road, near Skippers Lane Industrial Estate, Cargo Fleet.

Guests included representatives from the worlds of art, engineering, higher education and local government attended at the event on the 80th anniversary of the Tees Newport Bridge's opening.

An eclectic array of paintings, drawings and prints of both the Transporter and Newport Bridges, by members of the Cleveland Art Society, were on show as part of the link up with the £2.6m Tees Transporter Bridge Visitor Experience Project, supported by the National Lottery through the Heritage Lottery Fund.

Unique film provided by the North East Film Archive and photographs from Teesside Archives' Cleveland Bridge Collection were also on show, including footage of the opening of both bridges and a recording of the last lift of the Newport Bridge in 1990.

Alan Morley, Cleveland Art Society Exhibition Secretary, said: "We are delighted that the preview night of the exhibition has helped unite people from an array of backgrounds in celebrating the area's two landmark bridges.

"We hope that many of those in attendance will be inspired to become members of the Society as a result of visiting the exhibition and will have their work showcased at future events."

'The Green One and the Blue One' continues until Friday, April 11 (9am-5pm, Mon-Fri) at The Heritage Gallery in former Cargo Fleet Iron Company Offices, Middlesbrough.
To rate this article select the number of stars you think perfectly rates this article.