Stockton Weekender's set to Bring The Noise
By Ciara Johnson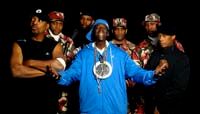 American hip-hop heroes Public Enemy will headline one of the North East's biggest outdoor music festival, Stockton Weekender, as it returns for its fourth year on Saturday 26th and Sunday 27th July, event organisers Tees Music Alliance (TMA) have revealed.

TMA have also announced that Happy Mondays, Martha Reeves and The Vandellas, Peter Hook & The Light, Reverend & The Makers and The Amazing Snakeheads will also perform across the two outdoor stages and comedian Lee Nelson will headline in The Wunderbar Tent.

The multi-platinum selling Public Enemy, which includes members Chuck D, Flavor Flav, DJ Lord, The S1W group, Khari Wynn and Professor Griff, head to the Riverside with one of the most impressive back catalogues in rap music.

Named in Rolling Stone Magazines 100 Greatest Artists of All Time and inducted in to The Rock and Roll Hall of Fame in 2013 the group will perform hits such as Don't Believe The Hype, Bring The Noise, Fight The Power, Get Up Stand Up and Harder Than You Think, which was the official theme tune to the 2012 Paralympic Games.
'Madchester' legends Happy Mondays return to Teesside with a stack of anthems such as Kinky Afro, Step On, 24 Hour Party People and Loose Fit. The band, fronted by NME 'Godlike Genius' Shaun Ryder, originally formed in 1980 and in this time have released five albums, reformed four times, and toured the world.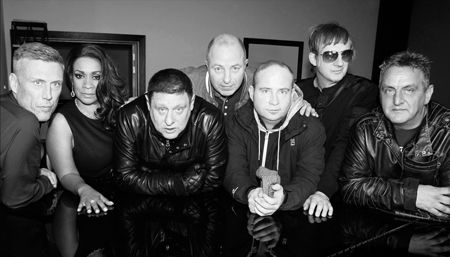 Leaders of the dance and rave culture of the early 90s, the Mondays have influenced acts such as Oasis, The Charlatans and Chemical Brothers, and in 2013 completed a UK tour celebrating 25 years since the release of their critically acclaimed album 'Bummed'.

Motown legends Martha Reeves and the Vandellas, famous for 60s anthems (Love Is Like a) Heat Wave, Nowhere to Run, Jimmy Mack, Bless You and Dancing in the Street, will provide the perfect summer tunes down on the Riverside.
Formed in 1957 in Detroit, Martha and the Vandellas made their way up through the ranks on legendary label Motown, providing backing vocals for fellow label mate Marvin Gaye along the way, and went on to score countless hit singles across the globe, sound tracking an unforgettable era.
The list of legendary acts set to play the festival grows as former New Order and Joy Division bassist Peter Hook brings his latest project, Peter Hook & The Light, to Stockton Weekender.

Back in 2010, Peter Hook, decided to honour the outstanding work of his first band and the undoubted genius of the late Ian Curtis by giving people the opportunity to hear both of Joy Division's masterpiece albums, 'Unknown Pleasures' and 'Closer', live and in their entireties.

One stand alone sold out night quickly became a world wide tour due to demand and the band has since started to perform New Order material too. This will be an unmissable performance for any fans of these notorious bands.

Heavyweight Champion of the World hit makers Reverend and The Makers will also make an appearance, heading to Teesside after the release of their 4th album which hit #13 in the UK Album Chart in February.

As always, the festival combines household names with exciting new talent. In recent years Stockton Weekender has seen Jake Bugg, Kodaline and Django Django all take to the stage, ahead of their ascent to impressive heights.
Glasgow trio The Amazing Snakeheads are amongst this years one's to watch. Having been signed to Domino (home of Arctic Monkeys, amongst others) the band have created a huge buzz with their intensely palpable live performances.

Cockney geezer Lee Nelson (a.k.a Simon Brodkin) will provide the laughs in The Wunderbar Tent this year. Nelson is Brodkin's most famous character; seen on BBC Three program Lee Nelson's Well Good Show and Lee Nelson's Well Funny People, as well as featuring on Jason Manford's Comedy Rocks and Let's Dance for Sport Relief.

TMA Director Paul Burns said, ""2014 is shaping up to be a vintage year for Stockton Weekender and one not to be missed. The festival has a real reputation for being a great couple of days of fun and socialising – add a bunch of great bands into the mix and it's the perfect recipe for a memorable part of everyone's summer.
It's noticeable how many of the North East's music festivals are dropping off the calendar for various reasons – and we've got to admit it's a tough time for large scale events in our part of the world. We hope local people will come out and support Stockton Weekender – showing the rest of the country that we too can have great events right here on our doorstep."

Tickets for the festival went on sale in February and loyal festivalgoers have been snapping up the Early Bird Weekend ticket priced at £35 (subject to booking fees).

The Early Bird Weekend price will be available until Wednesday 30th April and on Thursday 1st May, Day tickets will be released and Weekend prices will rise.

The family friendly event, which offers a children's activity tent and is renowned for its relaxed atmosphere, will once more offer two free Under 14 tickets for every adult ticket purchased, and the option to camp also returns, an additional cost of £30 on top of a Weekend ticket price.

To help increase accessibility TMA have introduced the option to pay in instalments this year. Festivalgoers can reserve their tickets with a £10 deposit (per ticket) and then pay the rest off as they can, as long as it's all paid for by 25th July. This option is only available over the phone or in person and is subject to terms and conditions.

Early Bird Weekend prices are £35 and £65 for camping. Ticket prices will increase in price from 1st April onwards. Each adult ticket entitles the holder to 2 free Under 14s tickets. Tickets are available online from www.stocktonweekender.co.uk or call 01642 606525.
To rate this article select the number of stars you think perfectly rates this article.