PATRIK FITZGERALD
By Leigh Sayers
Patrik Fitzgerald plays at the Little Theatre Club, Linthorpe on Saturday. A folk punk legend or should that be a punk folk legend.
Saturday 8 March 2014 @ 7.30pm (7pm doors)
MIDDLESBROUGH LITTLE THEATRE CLUB, The Avenue, Linthorpe, Middlesbrough, TS5 6SA
Tickets £7 available from the bar or from Fahrenheit Books, Forbes Building, Linthorpe Road, Middlesbrough.

Kevin Wall of local band SHRUG has followed Patrik Fitgerald's career from the early days and had these questions for him:
SHRUG: How did your parents arrive in Middlesbrough?
PF: The information on my parents in Middlesbrough is a bit sketchy. All I know is that on my parents birth certificate there was a Middlesbrough address and I had heard before that that is where they met, presumably having arrived from Ireland. My mother worked as an auxiliary nurse and my father worked in various manual jobs but wanted to be a jockey so he may have gravitated to that area in search of an opening at one of the racecourses or studs.
SHRUG: Where were you brought up?
PF: I was brought up in Leytonstone in East London where my parents eventually rented and then bought a house.
SHRUG: What was it like working in the House of Commons?
PF: My job as a waiter at the House of Commons working through an agency and then at the House of Lords was like any job. I was at the bottom of the food chain, looking after those much closer to the top of it. Quite enlightening, working with generally obnoxious people; some of them MPs and some of the others I worked with. Working as a waiter and delivering trays of food and drink to the red wedge people felt a bit strange.
SHRUG: What made you get up on stage without a band in the punk era?
PF: After I had unsuccessfully tried to get into the music business through Ken Pitt, David Bowie's original manager, whose address I found in a cheap Bowie biog paperback, I tried to find likeminded souls locally (musician-wise) but found nobody with any original ideas. I started busking things like "Safety Pin" and "Backstreet Boys" but only got funny looks. Then I started buying singles and albums at Small Wonder Records in nearby Walthamstow. They started a label and I anonymously gave them a tape of acoustic songs. Pete Stennett liked them and we made plans to 'do some eps'. As I was now going to punk clubs, Pete suggested I try to play live acoustically, much against the trend, but I did and people started giving me support slots. Bands that were particularly supportive were Dead Fingers Talk, Gloria Mundi and Ultravox, all of whom have North East/Yorkshire connections. The audience reaction was quite a lot of hostility dotted with clusters of individuals who found it interesting, possibly even inspiring, even unexpected people such as Tracy Thorn (as mentioned in her autobiography), Billy Bragg, Chumbawumba and Attila the Stockbroker.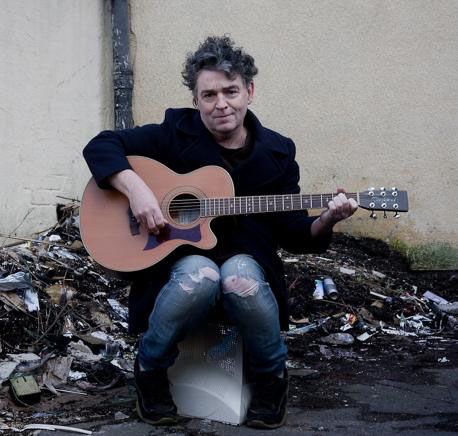 SHRUG: What was it like going out to face punk audiences with just a voice and an acoustic guitar? In your early career you used to switch between playing solo and playing with groups or other musicians such as brass sections, any plans for projects of that sort or is it strictly solo from now on?
PF: Playing to punk audiences with a voice and acoustic guitar felt a bit odd also but I always felt like a punk songwriter without a band. Incidentally I never played with a band with a brass section; it was either straight electric/bass/drums or acoustic/electric/synthesiser/saxophone/flute/drumbox.
At present I have no plans to play with other musicians, my current stage set will revolve around guitar, spoken word and sort of DIY techno-ish backing with CD tracks to reflect my 80s stuff and the latest CD

SHRUG: What do you think of the term folk punk?
PF: It is hard to say as I have generally been ignored by the folk world. Having said that, I have always been a bit derogatory about the folk world. I have always found the folk world a bit too comfortable with itself and felt that the protest or social side of it was a bit 'locked in a glass case' like in a museum. Obviously, as time has gone by, bands have come along that have given it a bit more vitality but I still feel rather estranged by 'the folk world'.
SHRUG: Your lyrics still have a lot of political content and social awareness. Do you still feel as angry about the state of the world as when you were younger?
PF: In terms of my lyrics, well the world hasn't changed that much for the better. I think, in general, people have been disenfranchised and removed from having much participation in the way that the world is run. Because as I mentioned, I felt like a punk songwriter or songwriter without a band and because I grew up listening to pop reggae and rock. I have always wanted to make records that have musical arrangements, as I think there is a difference between playing once, live, with an acoustic, and making records that people will listen to for years
SHRUG: Your album "Subliminal Alienation" is rather dark but probably your best work yet. What took you in that direction? What type of stuff are you writing now?
PF: My current songwriting is, at present, best reflected by "Subliminal Alienation" and I'm hoping to do an onstage mix of acoustic and electric guitar, spoken word and DIY electronica or CD backing track songs.

SHRUG: You once said in an interview that songs should be more than just pointless entertainment, given that pointless entertainment seems to be what the majority of people want do you ever feel like just giving up in despair?
PF: I pretty much always want to give up doing music!
SHRUG: Do song ideas just pop into your mind or do you consciously sit down and think 'I'm going to write a song now'?
PF: Ideas do just pop into my head. Turning them into songs is another matter. If a structure will work as a song I turn it into a song, otherwise things stay as poems and I will sometimes use backing music if there is something I have recorded that provides the right ambience/mood or whatever.
SHRUG: The punk nostalgia scene seems pretty big at the moment - what do you make of old punk bands reforming and playing all their old stuff?
PF: I don't really have much view on bands reforming. Personally I would be unhappy if I just had to do my early stuff over and over again. I think it's up to individual bands; if they are just a tribute to themselves, I don't really get that. If they can breathe new life into it, that's something else and of course, some people would say that by just playing their stuff they are breathing new life into it. I don't know, maybe it just depends on the band and the circumstance
SHRUG: How did the Boomtown Rats tour come about? What was it like working with Sir Bob? What was the audience reaction like?
PF: The Boomtown Rats gig came about through the 02 Academy booking agency who liked my material and thought it a good choice to contrast to The Boomtown Rats. I had a few nice conversations with Bob Geldof and the rest of the band. It was pretty much like doing a tour with any band, but they seemed nice people. The audience reaction was pretty much as mentioned before, except probably a lot more people actually listened.
SHRUG: The MLT Club gig is a bit of a one off and a long way from home.
PF: I enjoyed my gig in Middlesbrough last year (at The Westgarth), so felt it was a place I would enjoy playing again. I am not going to do many gigs this year, so hopefully it will be special.
SHRUG: I read once that you never write a set list for gigs (neither does my band Shrug) - is that because you like to just play what you feel like once you get up on stage?
PF: I prefer to play without a set list partly because I have so many songs. I like the freedom and spontaneity of playing whatever song feels right next.
SHRUG: How many songs do you think you've written and how many of them could you play right now?
PF: I couldn't guess how many songs I have written, in the hundreds somewhere. I've recorded and released between 100 and 200 of my own. Some of the ones I like best are unfortunately unplayable as I have always used unconventional chords and they are not really written down.

BUILDING BRIDGES presents .... PATRIK FITZGERALD @ The Studio, Middlesbrough Little Theatre Club, Toft House, The Avenue, Linthorpe, Middlesbrough, TS5 6SA
7.30pm, Saturday 8 March (Doors 7pm, Real Ale Bar 6pm)
PLUS - CHRISSIE PETRIE + THE BLACK LIGHT ENGINE ROOM
Tickets £7 from the club bar (tel 01642 828715) and from Fahrenheit Books, Forbes Building, Linthorpe Road, Middlesbrough
To rate this article select the number of stars you think perfectly rates this article.