ARTIST RETURNS TO SCHOOL THAT INSPIRED 50-YEAR CAREER
By Kirsty Clarke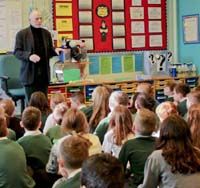 Middlesbrough-born artist William Tillyer returned to the school where he was taught, Whinney Banks Primary School, to speak to a new generation of students who have been inspired by his work.
William was born in 1938, the same year the school was built. He was a student during his early years and was taught a way of working that has stayed with him throughout his life and career.
In November 2013 over 50 students from Year 5 visited mima with their teachers where they saw Tillyer's work on display and took part in workshops in front of the artwork on display. When the students returned to the classroom they were so inspired that they created a whole body of artwork that is now on display in the school's own gallery.
William Tillyer was invited to Whinney Banks Primary to see the students work, talk to them about how he became an artist and what it was like when he was at their school.
William said: "The time I spent at Whinney Banks school has fond memories for me and I'm delighted that I got to visit and give something back to the place where you could say it all began."
mima Education officer Erin Rolfe added: "Connecting the artists on display with our schools and community is at the heart of what we do at mima. With William being from Middlesbrough it's been an absolute joy to see so many pupils inspired by his world class art.
"The fact that pupils see that William has come from their town raises the aspirations of these young people."
Over 50 stunning watercolours by William Tillyer, many of which are based on the landscape of North Yorkshire, can still be seen at mima until 19 February 2014.
Whinney Banks school art gallery was opened last summer by popular Teesside artist, Mackenzie Thorpe.
Took book a visit to mima for schools please contact erin_rolfe@middlesbrough.gov.uk
To rate this article select the number of stars you think perfectly rates this article.