LETíS MAKE MIMA MATTER, SAYS PROSPECTIVE MAYOR
By Dave Allan
Middlesbrough's prospective next mayor is calling for changes to the future direction of mima as Middlesbrough Insitutute of Modern Art prepares to begin a new era.
Local businessman and charity leader Andy Preston believes the forthcoming departure of mima director Kate Brindley and the switch that means the gallery is now run by Teesside University create an opportunity to make mima more accessible to the general public.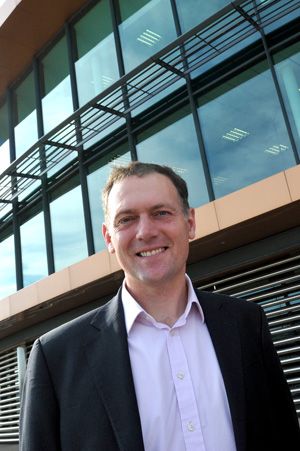 "The recent changes give us a real chance for a new era for mima," said Mr Preston, who has announced his intention to stand as mayor of Middlesbrough when Ray Mallon stands down next year
"Kate has always done her level best for mima and the town, and I believe she genuinely wanted to make mima a really important part of the town's life, so I wish her well in new role in Bristol. Equally, I know that Teesside University are a huge force for good within the town.
"mima is a fantastic opportunity to create a bold institution that educates the town, entertains adults, inspires our youngsters and attracts visitors.
"Unfortunately, as an organisation it has been barking up the wrong tree ever since it was opened with good intentions back in 2007."
Acklam-born Mr Preston, who as chairman of Middlesbrough and Teesside Philanthropic Foundation has helped raise more than £500,000 for local good causes over the last two-and-a-half years, says changes are needed to increase the number of "genuine" visitors to the art gallery.
He said: "Despite official suggestions to the contrary, it is common knowledge that the genuine number of visitors to mima – as opposed to the café or toilets – is pitifully low. That can't be allowed to continue.
"And yet I believe we wouldn't need to change too much to turn mima into a magnet for everyone and anyone interested in art, especially passionate local people.
"The gallery and that fabulous building could be a massive asset to the town simply by making a few small changes to the way it sees itself and its role within the town.
"Now is the time for everyone on Teesside to put pressure on Middlesbrough Council to come up with a workable plan for mima's future that offers value for the town and its people, so that the gallery becomes a place that is close to the hearts of everyone."
Mr Preston, who led the successful campaign to retain the role of elected mayor of Middlesbrough when Mr Mallon steps down, added: "What I believe needs to happen – and I know many others agree with me – is that we need to engage more with the local population in a way that make everyone from the town want to go there at least once a year.
"The first step towards making that a reality would be for mima to showcase our internationally-acclaimed local artists such as the amazing Mackenzie Thorpe.
"I am certain that an exhibition of Mackenzie's work would encourage many people to make either their first visit to mima or their first for some time."
Kate Brindley is to step down from her role as mima director after nearly five years at the helm of the art gallery following her appointment as interim director of Arnolfini Centre for the Contemporary Arts in Bristol.
Last November Middlesbrough Council and Teesside University announced the formation of a new partnership to develop mima's role in the town.
Teesside University will be taking over the day-to-day running of mima, with the Council retaining its involvement as a main funding partner alongside Arts Council England.
Kate is set to leave mima at the end of March with a successor to be appointed in due course.
To rate this article select the number of stars you think perfectly rates this article.