YOUNGSTERS CUT CAKE TO CELEBRATE TRANSPORTER BRIDGE'S 102ND BIRTHDAY
By Angus Hoy
Celebrations to mark the Tees Transporter Bridge's 102nd birthday took place on Thursday as part of the Discover Middlesbrough Festival.
The landmark's birthday was marked by a well-attended lecture at Teesside Archives on 'The Tees Transporter Bridge Through Time' by historian Tosh Warwick, the Bridge's Education, Learning and Events Officer.

The illustrated presentation included rare photographs from Teesside Archives' collections, footage of the Bridge's 1911 opening ceremony and information on the ongoing £2.6m Heritage Lottery Fund supported renovations of the Bridge.

The event concluded with youngsters William Whyborne, 11, Mia Whyborne, 9, and Evan Lourie, 5, cutting a specially made Transporter Bridge emblazed cake to mark the 102nd anniversary of the Bridge's official opening by Prince Arthur of Connaught.

The celebrations took place at Teesside Archives as a result of ongoing repainting and renovation works having resulted in the closure of the Transporter Bridge Visitor Centre to the public. Teesside Archives is also currently hosting a Transporter Bridge Exhibition on the ground floor which is open to the public during normal opening hours.

The ongoing renovation works have already seen the installation of a new Winding House Viewing Area and extensive education and event activities since the Bridge's centenary celebrations two years ago. Developments in the upcoming year will include the installation a lift to the 160ft high upper walkway, refurbishment of the Visitor Centre, development of an interactive heritage trail, new exhibitions and heritage resources for the area.

Rob Nichols, Co-coordinator of the Festival "The talk provided a fascinating insight into the history of the Bridge and the attendance at the celebrations by people from across the generations reflects the wide appeal the landmark still enjoys today".

Tosh Warwick added "Be it through its rich history, television fame or the extreme sports activities that have become a mainstay in recent years, the Bridge is truly unique. It is fitting that the anniversary forms one of the centrepieces of Discover Middlesbrough at the home of Teesside's historic collections".

Discover Middlesbrough, the annual festival celebrating the town, its attractions and its people, continues throughout the coming week with a range of talks, walks, tours, music, film and exhibitions. More information is available on Middlesbrough Council's dedicated Discover Middlesbrough webpage DiscoverMiddlesbrough
(photos below Tracy Hyman)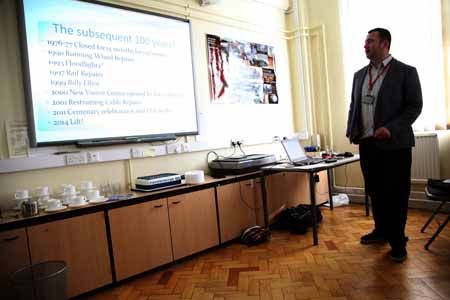 To rate this article select the number of stars you think perfectly rates this article.