LINDISFARNE GOSPELS AT THE TRANSPORTER BRIDGE
By Andrew Pain
A giant piece of art has been installed on the gondola of the Transporter Bridge to mark the return of the Lindisfarne Gospels to the North East.

The unique work has been created by internationally renowned artist Niels 'Shoe' Meulman and is the first of five original installations to be on show to mark the Gospels' stay in the region throughout August and September while on loan from the British Library.

The Dutchman's creation is described as "calligraffiti" and is part of a wider programme of activities, the centre piece of which is the Lindisfarne Gospels Durham Exhibition, on show in Durham University's Palace Green Library until Monday, September 30.

Amsterdam-based artist Shoe, who has previously exhibited across the globe including in France, Australia and the USA, said he had taken inspiration from the Gospels – widely regarded as one of the best examples of Medieval creativity and craftsmanship.

They were created by Eadfrith, the one-time Bishop of Lindisfarne and the community of St Cuthbert on the island, and are believed to date back to the year 715.

Shoe said: "By being in the North East and seeing the Lindisfarne Gospels I genuinely connected with someone who lived 1300 years ago.

"Eadfrith was the first Calligraffiti artist. The piece I did for the Bridge is called Nouum Opus - the u and v were the same when the Lindisfarne Gospels were produced - and refers to an amazing page from the book.

"The complete text translates as 'a new work you urged me to make from the old one' and that is exactly what I was urged to do."

The Tees Transporter Bridge, currently undergoing renovation work supported by a £2.6m Heritage Lottery Fund award, was selected as a host location for the prestigious work because of its iconic status and Middlesbrough's historic ecclesiastical foundation as a central cell for monks travelling between Durham and Whitby.

Tosh Warwick, Tees Transporter Bridge Education, Learning and Events Officer said: "We are delighted the Transporter Bridge was selected to host this unique art installation and we are extremely proud to be the first of the five host sites to go on display to the public.

"The Bridge is a landmark for the region and this latest development combines both our industrial heritage with the area's earlier history dating back to twelfth century Benedictine monks, chapels and Robert de Brus."

In the coming days other installations will follow at Woodhorn Museum and Northumberland Archives on the outskirts of Ashington, Berwick-upon-Tweed's The Maltings Theatre & Cinema, Newcastle's Castle Keep and Durham's Prince Bishops Shopping Centre.

More information on the Lindisfarne Gospels Durham, including details of events and tickets, can be found at www.lindisfarnegospels.com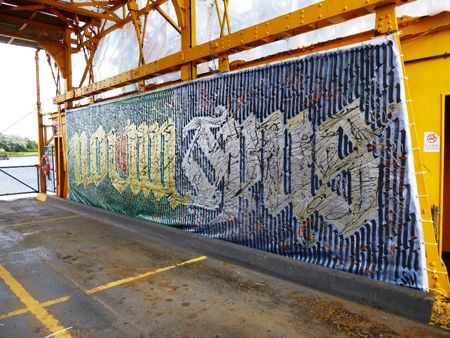 To rate this article select the number of stars you think perfectly rates this article.