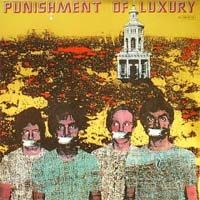 This Saturday New Wave revisited from the legendary Punishment of Luxury making a very welcome return to the Georgian Theatre after their successful appearance back in December 2010; their first on Teesside for 30 years. Manchester's gothic punk blues band the Inca Babies return in support and also local evergreen indie lo-fi band Pellethead will never fail but to entertain.
Punilux used to come down from Tyneside as regular support act in the 1980s at the old Rockgarden. Their stunning visual live show soon elevated them onto the national stage and their debut gatefold sleeve album Laughing Academy was one of the great New Wave releases of the immediate post punk era.
Punishment of Luxury were one time NME darlings and no wonder with incredibly powerful songs such Obsession or Puppet Life they brought their theatrical background to the fore as well as their love of musical Engines of Excess.
Big Figure Promotions presents Punishment Of Luxury
Sat 6 July / 8pm
£10 ADV (£13 OTD)

Talking of legends, this fella really does have that status, Rock Garden Revisited are bringing New York Dolls legend Sylvain Sylvain to The Georgian Theatre on Wednesday 17 July for a solo acoustic gig. Tickets are £15 advance and on sale here right now!

The Kids Are Solid Gold bring chamber folk troupe Dark Dark Dark to The Georgian Theatre on Sunday 21 July, not to be missed! Tickets are available for £11.

Temples head to The Georgian to follow up their performance at this year's Stockton Weekender, on Monday 19 August. Tickets are already flying out.

Rob Heron & The Teapad Orchestra make a welcome return to The Green Room on Friday 23 August after packing out the venue at this years Stockton Calling.

Grass Route return to The Green Room with US blues expert Lincoln Durham on Saturday 21 September. Tickets are £6 in advance.

Wigan two-piece Brown Brogues, who funnel out garage-pop tunes that fuse heavily-overdriven guitars and echoe-d vocals, are set to smash up The Green Room on Friday 11 October.

For more info and ticket details
Visit www.georgiantheatre.co.uk and http://thegreenroomstockton.co.uk
To rate this article select the number of stars you think perfectly rates this article.