A Funny Thing Happened on the Way To Durham
By Robert Nichols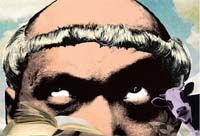 This week the Lindisfarne Gospels go on display under the watchful eye of the old cathedral, across the river a hilarious, sketch-packed play will chronicle the life and times of this incredible medieval illuminations.
One of the greatest and most exquisite books ever hand written and illustrated the Lindisfarne Gospels return to the north east for the summer and go on show at Durham University Palace Green Library. If you want to know the stories behind the creation and subsequent flight from invading raiders of these millennium and half old glittering "Good News" books then tune in to A Funny Thing Happened on the Way To Durham.
Written by perhaps the region's most successful contemporary comedy playwrights Ed Waugh and Trevor Wood, whose recent work includes Dirty Dusting, Waiting For Gateaux, Maggie's End and Alf Ramsey Knew My Grandfather it is described as an irreverent romp through north eastern history in about 90 minutes (well, they are football fans). There are a week of performances at Gala Theatre starting on Tuesday and then they will be off around the region in a tour that mirrors not too faithfully the journeys that the Gospels once took a thousand years ago as they were transported away from raiding Vikings.
I chatted with Ed and Trevor who were overflowing with excitement as the cast were beginning to get to grips with an incredible cast of characters and cascade of events from Anglo-Saxon Northumbria to 21st century. A cast of just THREE!
Trevor: We were commissioned by Durham Gala Theatre and www.visitcountydurham.org to write a comedy about the Lindisfarne Gospels and at first we weren't quite certain whether we were the right people. All we knew about the Lindisfarne Gospels is that it is basically a copy of the bible. Are you sure you wants us, religion isn't really our bag? They said no, no we want comedy, you are the guys. We had a meeting and came and had a chat and talked through what they wanted. Straight away we were saying it is 1400 years of history, how many actors have we got? They said we can give you three. (laughs) OK, three actors, 1400 years of history. And umpteen characters, this is going to be quite a challenge.
Ed: We got explosions though, we asked for those and they said yes.
T: We were saying we have got Viking invasions etc and you are giving us three people? So we said OK we'll have a think about that. So, straight away we realised it should be an almost sketch based show. There's maybe ten or twelve stories to tell but they are so far apart in history, in time that there is no real interlinking characters. Apart from Cuthbert maybe and he is dead for most of them. So we realised straight away it needed to be sketches but we also wanted a story that maintained a flow, so that people would care about what was happening.
So we started to kick ideas around and we wrote the sketches first. We identified about dozen stories. We met the guy from Durham University, Richard Gameson who is the world's expert on the Lindisfarne Gospels and he gave us a few anecdotes and we met the guy from the Northumbrian Society who had a completely different take on the Lindisfarne Gospels. We got some good stuff from him.
E: He wants to bring them back permanently.
T: And we started to get a feel that there was a lot of absurdity, not in the Gospels themselves but in the story of what happened to them because they got dragged everywhere by a bunch of monks running away from Vikings carrying some skeletons, bones and coffins and crosses. It is almost like a chase movie as they flit from town to town. And that started to give us ideas about how we might tell the story of this strange progression through 1400 years. So that was the starting point really.
E: So, the sketches they were a joy to write. An absolute joy.
Then a huge event for Christianity was The Synod of Whitby, especially in Britain, especially in this area which was dominated by the Irish Christian tradition which was rural. Rome wanted to establish its authority by kicking the Irish out and that was more city based.
What we've found, reading is that the north east comprises hundreds of different nationalities, different types of people. There are the Angles, the Jutes, you've got the Germans, the Vikings, the French and there is no traditional north east people. We are all a mish mash of everybody and it was wonderful to see that.
T: You can see it in the place names that everyone has influenced this area.
So then you get other ideas about what you might filter through the stories, so we've got a ton of stuff filtering through about how we are all from God knows where. We have got a peasant who is agitating against the French but he keeps getting tangled up. "The King is for us, the English but not I'm not strictly English, my dad was a Viking but you know what I mean."
E: The other aspect is shouting out, it's our land, it's our land as the right wing do today. Actually we don't own anything it is the aristocracy. And they ran away from the French, the aristocracy ran away from the French.
We did the Synod of Whitby and that has got the Easter Bunny in it. Then we take it through different things like the creation of the Gospels, the Viking invasion, Cuthbert's miracles.
T: Cuthbert's miracles were really shit. Even the guy at Durham University, Richard Gameson was saying they weren't really miracles. There was someone on a walk and fish jumped out of the river. Salmon season?!
So it would start to be obvious that there was a lot of absurd stuff and you would start to think of things like Blackadder and Monty Python and run with that kind of idea. So that kind of influenced us quite a bit. I hope that comes over and people see.
E: There are nods to it but it is our own style.
So then we are going through history and to Aeldred.
T: When the Gospels got to Chester-le-Street this guy decided to translate every line and wrote through the whole book in Northumbrian.
E: Vandalised it. It was the first translation . It is incredible. At the time he was a naughty boy. So we have got him in a detention centre with a couple of others. But again that just flows naturally how naughty they were. But he has done historians a massive favour by what he did because it was the first translation.
The monks were going round the region carrying the body of Cuthbert and 12 foot stone crucifix so they couldn't run very fast. We've got the Strolling Bones. Like the Rolling Stones they have gone on forever and ever. But this was before we knew they were playing Glastonbury so we have got a gag in about Glastonbury which will finish just before we start.
T: It is a north east story but we have guest appearances from various Kings who just wander on and off and make a few speeches and get involved in some of the other sketches somehow randomly.
E: Alfred the Great doing a deal with the Danes.
T: But it is not just the north east. The French invade so there's an interview with William the Conqueror and Harold, an after show. He used every excuse which Alan Pardew came up with last season (for Newcastle United). It is like a SKY interview with the two managers and they are going you know Brian at the end of the day it was a game of two halves. There were too many matches.
E: They didn't have enough strength in depth in the squad. There were at least 100 archers offside, just look at the Bayeux Tapestry.
The cast read through it today for the first time to get a feel of it. They were trying out accents and there are 39 characters so they've all got about 13 each. At the moment some of them haven't settled on what accents. One of them might be in French and then his next character is Scottish and he starts to leak into French.
E: In the second half it moves away from the north east because you get Henry VIII coming and stealing them and you've got Canterbury that takes over from Durham as the pilgrimage centre. Then they get taken to London and they end up in the Tower of London.
So it is north east history but is not just a play about the north east, most of the accents and characters are from outside the north east. They are national characters. Down to Holmes and Watson to see what happened to the Gospels.
T: We needed to find a way to explain the last few hundred years of history because not much happened to them. They went to the Tower of London and ended up in the British Library.
E: In between getting in a house fire as well.
T: There was no real story there, so we had the Gospels turning up at Sherlock Holmes place and Watson finding them. And Holmes explains the whole thing on the basis of very dubious evidence. An excuse to get a thousand jokes in based around Elementary my dear Watson.
E: So it is a bit of British history and world history as well because this is the finest example of medieval literature. They are beautiful. So, obviously it is north east history and British history as well that we've incorporated and it is a fascinating story.
But we haven't just done twelve sketches. What we've done is we wanted a little story to weave in amongst the sketches.
T: We've got a pair of characters who are from the real world, in the current day and they link the story together and their relationship revolves around what happens in the play. So, there is something that connects the audience to these people. So it is not just here's King Alfred and here's King Henry VIII, there is an interlinking story which hopefully binds it all together beautifully.
With only having three actors we wanted some music as well and surprisingly they said yes we will pay for a musical director. So, there should be a fair bit of music.
Robert: I like the way you are taking this on tour like the Gospels.
T: It is a bit random like that as well, playing everywhere from Whitby to Hamsterley Village hall.
E: Look out for some Bede gags. It is irreverent but is not anti-religious in anyway, it is just dead funny.
T: Cuthbert's body may not be perfectly preserved through this play.
E: If you want anything in depth about the Gospels, there isn't anything (laughs). We did a load of research on this the kings and queens of the Northumbria and the church. They were all knaves, bloodthirsty. Some of the kings raped nuns. These were horrible people.
So, looking at it, not a lot is known so if we do some stuff.. prove it, prove it, go on. It was good fun.
T: The historian from Durham University when he is talking about Simeon who wrote the story of the French taking over. He just made loads of stuff up. All this stuff about the Gospels being washed over board.
E: The story of the Dun Cow. It just doesn't make sense in any shape or form.
T: People talk about it, oh the Dun Cow and you look into it and there is nothing there. The idea is that the monks were coming from Chester-le-Street, they were supposed to be coming to Durham but didn't know where it was and they stopped and asked a woman who had a cow. And that is pretty much it. The cow was on the hill and she said the cow is in Durham. That is not a story.
E: It is not particularly interesting. We have to include it because it is part of the folklore.
T: The cow is on every bit of marketing. I'm thinking there are no cows in this play. It says on the leaflet there are 390 cows but there are no cows in this play.
This is our tenth play that will actually be professionally produced. We still have three more that are waiting to go out. We will always try to make things different. In fact if you look at all of the plays they are different and this is different from anything we have done. This is manic.
E: There is no stopping.
E: Literally there are no scene changes, it is just full on and they are switching between characters in a heartbeat in some instances. And just doing the read through was insane. Oh my god this is so tiring and they were just reading it. When they are actually on their feet running around, changing costumes...
Hopefully they won't get time to change their costumes and they will be hobbling on in their tights etc...
T: It is in built in the script really that is meant to be fairly anarchic. We are breaking a few rules. We might be half way through a costume change and they are going 'I told you there wasn't enough time.' They might occasionally lapse into the wrong accent, 'Oh no I'm him now aren't I.'
E: That will be really funny.
T: We've basically said to them, look we are not precious about any of it, if you want to play with it get some comedy out of it. All the merrier really.
There are not many pauses for breath and that is the only concern we have got really. There are very few spaces for the audience to go OK I can calm down now.. they are back to the comedy stuff again. It is pretty relentless. It reminds me a bit of those 60s and 70s film like It's a Mad, Mad Mad, Mad World. Where it is just constant... just give me a moment.
E: The good thing is we have got a great audience. They are ordinary working people and we get a great audience who are up for it and they come out expecting a laugh and we've got to write that. You can win them over, they're clever and intelligent but they want to be entertained and so they are with you from the moment. They are fabulous people and they will come along and have a good laugh. We'll promise them a very, very, very good laugh. And Ed will personally give you your money back if you are not satisfied.
E: In fact I will let you take me for a pint if you don't like it.
To Book at the Gala Theatre click below
http://www.thisisdurham.com/whats-on/a-funny-thing-happened-on-the-way-to-durham-p686281
Tue 2 - Sat 6 July, 7.30pm (+ Sat 2.30pm)
Directed by Gareth Tudor-Price

£15 (£13 conc), £12 Gala Friends
To rate this article select the number of stars you think perfectly rates this article.