Monk Wants to Instil a Winning Habit
By Rob Nichols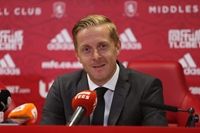 Garry Monk is a very down to earth kind of guy. He believes in plain speaking and rather than looking to install any grand plans of football philosophies at Boro his first priority is to return us to the winning habit.
That comes as a real relief to supporters that have suffered and endured a season of only five wins. Such a meagre total that stat alone tells you so much about one of the worst time's ever for our football club.
Yet after such a chronically disappointing season the Boro board and new manager Garry Monk agree that he is the man to return the club to winning ways again.
"There are certain principles that I follow that are key to helping this group and helping the club," Garry Monk told reporters. "In terms of style, people like to talk about philosophies but I will leave that for everyone else. The main part is to win. You have to win, I train myself and my staff and my players to have the mentality to win games, I think that is the key."
Having a winning mentality is of course hugely important in any league but vital in the Championship. It is such a long haul with weekend, midweek, weekend games making it a real endurance test. If you do not learn how to take all 3 points then you quickly see your chances ebbing away.
Garry Monk points to how the whole club had been geared towards promotion for a couple of years before we finally succeeded. We will need to quickly put last year's disaster behind us and click back into that Championship winning groove once again. He thinks he can tune us back into those table topping habits.

"We know how difficult that is and how competitive this league is but that is the challenge you should want, and that is the challenge I need and it is good to be working with the clarity in the club. They are already quite far down the line in terms of organisation and the determination of what they want to do and obviously that ties in with myself and having those ideas that align very well. I think that is the exciting thing about it having those two parties like that ready to go and having the determination to get things going."
Monk is quite clear from what he has seen that this club is strong enough to bounce back.
"They are a talented squad and a good squad of course they need help in some areas but that is the same at any club in any summer. But I think they have a core group that can really do well and get themselves back to the Premier League and obviously the ambition to try and do it at the first time of asking."