Garry Monk Excited For the Boro Promotion Challenge
By Robert Nichols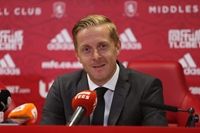 Boro today unveiled new manager Garry Monk. The 38 year old was all smiles and oozed confidence and was obviously very excited as he met the press as Middlesbrough manager at the Rockciffe training ground. Monk was friendly, approachable but also very business like in the way he answered questions. It was obvious that he relishes the challenge ahead. That challenge is to take Boro straight back to the top flight.
Boro Chief Executive, Neil Bausor, did the introductions:
"Allow me to welcome Garry Monk as the new manager of Middlesbrough Football Club, we are delighted that Garry has decided to join us. He joins us on a 3 year contract and over the coming the days we will be discussing with Garry the development of his support team."
Garry Monk first faced some questions from the SKY reporter:
I am ambitious, I want to be working and find that right challenge, which is something that I have always wanted. All of those ticked boxes to go forward with a football club, Middlesbrough had it and speaking to Steve especially and all the guys at the club, it was that ambition, that challenge. All the boxes were ticked that I was looking for.
Q: Steve Gibson has a fantastic reputation in football as an owner, was he integral in your decision to come here?
Oh for sure. Everyone in football knows when you to speak to him the passion and the desire he has for this club, that determination, was something that really struck me. I am a determined person myself and I want to be challenged. And this is a fantastic challenge for me and for Middlesbrough itself.
Once I spoke to him it was very clear that this was going to be the right club and the right opportunity for myself.
Q: Ben Gibson – away with England at the moment is he a player that you see leading Mbro back to the Premier or do you have to be realistic if offers come in from Premier League teams?
I am still in the process of going through the whole squad and assessing everything going forward but of course Ben is one of a number of players that are here that are integral to this club and integral to making that step back to the Premier League. Right now it is about being here and assessing everything and being happy and excited to be here. I am looking forward to be working with these players that are here and obviously maybe adding to the squad as well. But that is a normal process for any football club.
I am looking forward to meeting and working with the players that are here and obviously making decisions from that point going forward.
Q: Is the target to go straight back up?
Of course it is the ambition and the objective. There is no getting away from that. That is the challenge you want. I signed for 3 years. I would like to make it at first attempt but with the experience of this league it is very difficult to do that. Last season of the three teams that went down only one team managed to make it back. That just shows how competitive and difficult this league is. This club is equipped and ready and there will be the determination from all of us to try and bounce back at the first time of asking.
Garry Monk later was later asked about Steve Gibson saying about us smashing the league. "No pressure, then," he replied but then went on to say how he relishes working under pressure. He also emphasised about Ben Gibson that he doesn't like to sell his best players.
Garry Monk looked excited to be here and is ambitious to take this club back to the Premier League and make us go places in the 3 years of his current contract.