Monk To Give Orders at Boro
By Rob Nichols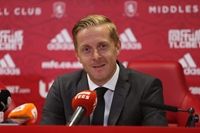 <![endif]-->
Big news for Boro fans this morning, no not the General Election results but that Garry Monk had been offered the manager hotseat at Riverside Stadium. The former Swansea and Leeds manager is expected to be confirmed this afternoon, at 4pm.

Garry Monk, only 38, is a young manager, hungry to climb the league ladders and parachute-payment fuelled Boro would be an ideal platform to achieve this. In some ways then his profile is reminiscent to former manager Aitor Karanka. This time it would be a homegrown manager trying to launch himself back to the towards the top with promotion to a Premier League stuffed full of overseas coaches.

The former Swansea player had a superb season at perennially troubled club, Leeds. Monk led Leeds and Leeds to 7th place finish, just a whisker away from the play offs. Yet he was unable agree a contract with the new owner at Elland Road. He had managed Swansea City in the Premier League between 2014 and 2015 taking them to their highest Premier League finish ever, an amazing 8th place at the end of his first full campaign. How we would love that.

Garry Monk had a reputation for going into incredible detail in his preparation for games. He left no page, or stat unturned in trying to gain an advantage over opponents.

Sadly, Monk was sacked mid-way through the next season, as the owners (and fans) seemed to lose their nerve following a run of 1 win in 11 Premier games. Yet they were still in 15th place at the time. Two years of turmoil were to follow at Swansea, perhaps they were too trigger happy.

Garry Monk was ten years a player at Swansea, so had a long association with the club but this did not prevent him proving himself by hitting the ground running at Leeds United. Monk built on the foundations of Steve Evans, who took them to a very creditable 13th place finish. Against a background of the eccentric, own goal antics of owner Massimo Cellino, Monk steered Leeds into a playoff position only to fall away late doors. Nevertheless, it was no mean achievement at such a turbulent club as Leeds.
Now for a new chapter at Boro, once Monk formally accepts the offer presented to him. A young, manager hungry for success coming to take the reins of a very well-resourced club desperate to bounce back to the top flight. It should be a good match and something to get very excited about.
Monk should be meeting the press on Monday when he will be unveiled as official Boro manager.

To use General Election parlance, I think Garry Monk would have won the popular vote amongst the candidates that seemed to be vying for the hot seat.
Now, let the hard work commence to take us straight back to the top flight. Come on Down Garry Monk and take us up.