Up For the Cup Quarter Final
By Robert Nichols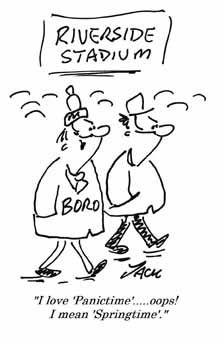 Time to pack up all our Premier troubles and throw ourselves into the great adventure that is the FA Cup. Tomorrow it is one of the traditional big occasions in the football calendar, the FA Cup Quarter Finals and Boro are just one match away from Wembley. We have formidable opponents in Man City but anything can happen on the day. Can we be their nemesis yet again?
Boro have made a habit of giant killing Man City. You might say that this season is different as we are playing so badly and they have been tearing apart teams in Europe and at home. Then again neither of us managed to score against Mark Hughes Stoke City. Surely we were more up against it when we knocked out the reigning Premier Champions at the Etihad, two years back? Will one of the real heroes of that victory be back to haunt City again? No, I don't mean Lee Tomlin. I am talking about Patrick Bamford.
It is going to be High Noon tomorrow (12.15kick off) for either Boro or Man City. The whole thing has to finish on the day, so that could mean extra time, penalties and a fourth sub. Imagine if that fourth sub makes history by being the first to ever score.
Our last goal feels a lot like ancient or medieval history as the front cover of Fly Me To The Moon fanzine reflects.
You can listen to a short podcast about the match and fanzine here. I will get back to you later with more match preview. In the meantime drink in the FA Cup atmosphere. We have had a relatively straight forward cup run so far, four home draws in a row. Even without three defenders, can we make home advantage count again and reach Wembley?
For podcast please click here