January Fanzine Sales
By Robert Nichols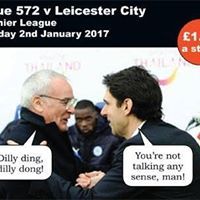 I don't know about you but I hate fighting my way through the madness of the January sales so I decided to get in early before the crowds and put out a fanzine out before the month had properly begun.
January's issue of Fmttm – Issue 572 was against reigning Premier Champions Leicester City. Having played les than 48 hours earlier at Old Trafford it was probably expecting too much from Boro to really turn it on in what was the first of two successive 0-0 draws in the league.
But there was some sparkling stuff in the fanzine. NME writer, music front man and artist Kingsley Chapman wrote a hard hitting piece about his New Year solutions for Middlesbrough. Former Middlesbrough Supporters South secretary Geoff Vickers told us about how much he enjoyed spending a Christmas weekend in the town. There were articles from author and Boro scout Mick Richardson, former Match of the Day editor Paul Armstrong on how Boro almost were not last on the programme.
I like to think this is a pretty special edition of the fanzine and in case you missed it here's how you can still order a copy through the post for £2.50
UK Only - for prices for mailing overseas please email me at fmttmadmin@gmail.com