Issue 568 – Where Eagles Scare
By Rob Nichols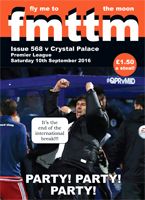 Second home game of the Premier season, Boro v Crystal Palace and could we make it a first win at the Riverside? Unfortunately not.
We are confident that we are on to a winner with this month's issue. In case you missed out picking up a copy at the match you can buy it here. Inside we feature the remarkable record of Boro fan Nick Waites, for him Saturday marked his 1000th consecutive Boro league game. Can you believe that? Medical operations, car crashes, family events, nothing has proved an obstacle to Nick achieving this incredible goal.
Just in case you were wondering he has been to all the cup games, League, FA and UEFA also. But in the spirit of official records like Rothmans, it is league matches that count for players and that is what Nick is counting for his marathon run in the stands.
Inside is the second instalment of modern-day Boro lad, Sherlock Holmes attempts to tackle the Riverside murder mystery.
Paddy Dillon delves further inside the Riverside pondering walking art installation, Carlos de Pena. There is a classic, Unpleasant Feelings from Uncle Harry, Throne of Games. I cast the net back to Big Mal and when the programme was replaced by Boro Fanfare.
I also wanted to pen a short tribute to a great friend that passed away recently, Kjell Morten Hartoy of the Bergen boys.
All this and far, far more - Just £2 to buy in UK – A steal