A Premier Fanzine for a Premier Season
By Rob Nichols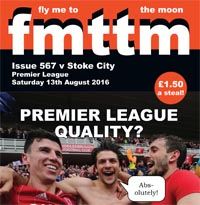 A new season and it is a whole new ball game in the top flight. Fly Me To The Moon is back to being a Premier fanzine for a Premier Boro. If you missed the first fanzine of the new season, then grab it here while stocks last.

The first issue of the season hopefully captures some of the excitement that had built up throughout the summer towards a crescendo for the game v Stoke City.
This promotion issue features the first episode in a season long crime thriller, a modern day Boro-lad Sherlock Holmes tries to solve a murder mystery at the Riverside. Can he find the killer in time for Boro's important European game to go ahead?
Loads of other new and established stuff all enjoying a Premiership day out in the sun. Roofus the Boro Dog, Donkeywatch, Football Unfocused. Boro Boy Bari writing in from Kenya. By the fans for the fans still a steal!
Just £2 to buy in UK
Or £2.50 to buy if you live abroad and want the pdf files sent through your email.