BARRY HYDE & THE MALODY ENSEMBLE
By Darcy Pickering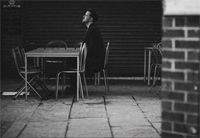 Come along to the Georgian Theatre on Friday 19th August to share the unique opportunity to witness lead singer and Guitarist from The Futureheads perform a very special seated show to promote his new album 'Malody'.
Friday August 19th 2016- 19:00
Live at the Georgian Theatre, Stockton-On-Tees
BARRY HYDE & THE MALODY ENSEMBLE
Price:
£7.50 ADV £10 OTD
Support:
TBC
Malody, explains Hyde, who was diagnosed with bipolar disorder in 2011, is "a word I have invented, derived from the words, melody and malady. A malody is a melody that expresses mental malaise, mental illness and deep sadness or its opposite, mania"
Malody, which was written in "the rare and exquisite moments of intense creativity that comes in an almost complimentary way with the highs and lows", as Hyde explains, promises to be an emotionally provoking and captivating album, guaranteed to incite not just an intense and vividly energetic atmosphere, but, simultaneously, a rare elegant quality, enhanced by the incorporation of a six-piece ensemble.

Do not miss the chance to experience a performance of such emotion from Hyde as he reveals 'Malody', a uniquely distinct album set to rapture 2016 with considerable force, which started life as a vampire musical written in the throes of a profound psychiatric rupture.
Friday August 19th 2016- 19:00
Live at the Georgian Theatre, Stockton-On-Tees
BARRY HYDE & THE MALODY ENSEMBLE
Price:
£7.50 ADV £10 OTD