Itís Just Not Cricket
By Left and co.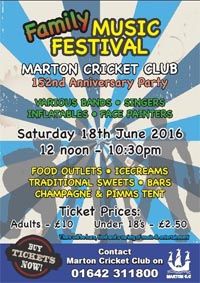 The doors open midday for a musical festival and family fun day at Marton Cricket club this Saturday (18th June)
Bring a deck chair, bring a picnic (NO GLASS or ALCOHOL though), although there will be a hog roast, burgers and plenty of food and refreshments on site. Catch your breath and take a break from the Euros.

There are loads of inflatables and family fun for the children with a
Giant Free Fall Slide, Giant Pirate Assault Course, Bouncy Castle, Laser Quest and
Soft Play.

In addition to the free inflatables there is hoopla, hook-a-duck, tin can alley, beat the goalie, mini-golf, ice cream van, traditional sweet stall and plenty of field to run around on.
And you get to walk around a proper cricket pitch. Maybe it is just me but I find that pretty exciting too.

The Music line up is pretty spectacular in my opinion. All starting out with the highly promising young singer songwriter Heather Story at 12.30.
1.30 – 2.15 – Tom Joshua and his band
2.30 – 3.00 – Rebecca McClelland
3.15 – 4.00 – Andrew Johnson
4.30 – 5.30 – Beer Pigs
6.00 – 6.30 – Mouses
7.00 – 7.45 – GT's Boos band
8.15 – 9.00 – Three Blind Wolves
9.30 -10.15 – Holy Moly & The Crackers
A little about some of those acts. Tom Joshua could easily be the next big thing to break out of the area very much in the wake of Cattle and Cane who he supported recently. Andrew Johnson (of Cherry Head Cherry Heart and Southmartins) has just released his umpteenth solo album, I am sorry I really am not sure how many that is but once more it is a ridiculously clever and listenable offering from this most prodigious and prolific talent.
Mouses are a punky two piece on a short fuse of inventive, infectious power pop brilliance. Three Blind Wolves is a Glasgow indie band, currently making national radio waves and with plenty of T in the Park big festival experience. Seven piece gypsy folkies Holy Moly and the Crackers are off to Glastonbury to play after this. A wonderful live act they will deliver a really rousing finale. Nailed on.

Prices are just £10 for adults for 10 hours + and £2.50 for under 18's.

There is an upper limited of 2,000 tickets and be warned it sold out last year.