The Final Boro Fmttm Championship Podcast
By Rob Nichols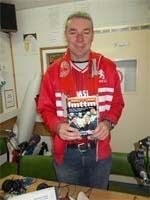 After seven years we have reached the final Championship podcast because next time we will be in the top flight. We Are Premier League. I said We Are Premier League.
Boro fans celebrated long into the night, some of us managed to drag ourselves out of pits early to chat about that incredible final game. The game that ended with Boro drawing to return to the Premier League after an absence of seven years. Doesn't it feel great to be back again?
In this podcast recorded this morning after the day and night before, anchor man Alex and myself look back over the match, and what a match, the season, an incredible season and look forward to life in the big league.
We look at the results of the Fmttm Fanzine Poll and mull over the fan picks for best player and best ever game etc. Then we return to the celebrations again and I think we can continue them for a few more days yet. What an achievement for Aitor, the players and a special mention to the leadership from above from Steve Gibson, where would we be without his expert and fanatical guidance.
We hope you enjoy our short podcast. Another little memento to what will go down amongst the greatest ever Boro days.
We did it the hard way but we did it and isn't it a special feeling to be back at the top again.