Boro Go Bottom After Defeat
By Damon Shaw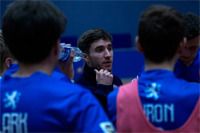 Middlesbrough Futsal Club find themselves bottom of the FA Super League North after a narrow 8-7 defeat to University of Nottingham on Sunday at Middlesbrough Sports Village amid controversial refereeing.

University of Nottingham, with two former Boro players, Leyshon and Hamblin have now done the double over the Teessiders and are in 6th, 2 points ahead of Boro having played 3 more. Mikey Roberts missed a penalty in the last seconds as Middlesbrough looked to equalise at the death, but the 3 points head South and Middlesbrough could be battling relegation from the top flight.

Controversial decisions played a part in the match with claims of a penalty for a foul on Val Evans and a goal ruled out as they brought the play back for a 10 metre penalty in the build up but Bettson admits that the performance wasn't quite good enough.

"It's a big disappointment to lose a game in such a manner. Today we score a goal in the final seconds to earn a deserved point, yet see a decision go against us which could be pivotal in our season. The story was the same in our away fixture. In spite of the manner, it's another game we have had opportunities to win comfortably so on this we must improve. We've had 4 good performances this season from 5 games, so having now lost 3 matches by 1 goal is tough to accept. We understand we have a young squad which is always learning, always improving, but we must learn quickly in this division," said the Boro manager.

Boro travel to Sheffield next Sunday in the FA Super League North with the next home match on 24th January against Birmingham Futsal Club, 3:30pm kick off at Middlesbrough Sports Village and as always, is free entry.
You can join Boro's academy that trains on Tuesdays at Middlesbrough Sports Village. All the information is on BoroFutsal.com/academy