Happy New Year Fly Me To The Moon
By Rob Nichols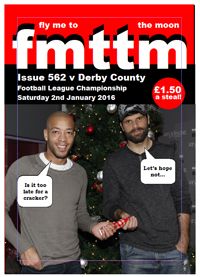 You can now buy the New Year issue of fmttm, Issue 562 when we looked forward to going head to head with Derby. How right we were to do that too.
We were still all cock a hoop after going top of the league and then beating Brighton away and obviously the Christmas spirits hadn't quite worked their way out of systems. The way we took Derby to the cleaners we may never come down off that cloud nine.
This issue contained interviews with Dimi Konstantopoulos, Adam Clayton and Ben Gibson. So, a prospective player of the month and two members of our record breaking back four. Although obviously delighted to be top of the shop no one was getting carried away and counting chickens or indeed turkeys. Turkeys because the interviews were conducted at Boro's Golden Ticket Christmas party for special, deserving children.
There was also a shout out from Boro's own Sherlock Holmes author Melvyn Small. An interview conducted in Middlesbrough's Baker Street, in the window of Baker Street Kitchen where Mel's Holmes often people watches whilst perusing his cases.

So, you can order this issue of the fanzine for just £2 including postage – UK Only.
Click below for email version of fanzine