Fmttm Boro Fanzine Half Season Subscription
By Rob Nichols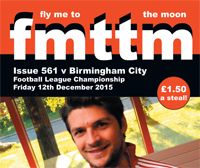 Here's a little idea for last minute Christmas shopping – how about getting all the final five fanzines of the season sent to your door? If you subscribe then I might even be able to throw in a Christmas card as well if I can rustle any up from the bottom of the draw.
Fly Me To The Moon, is still the only paper fanzine for Boro fans and by Boro fans. A monthly affair these days. We normally publish the for the first weekend home match of the month. So, next issue should be Saturday January 2nd v Derby County. What a game that will be.
The fanzine is as stuffed as a Christmas turkey only not with edible savoury stuff, although in saying that it is easy to digest. A warning though some opinions could always go down the wrong way. But they are 100% Boro.
We have some great writing talent as well as opinion on Teesside and the fanzine is a mouthpiece as well as a sounding board for so many to air the views and hone their style. There are interviews, cartoons and all sorts of comic capers in the 32 pages that will wing their way to your door every week.
The price for the half season subscription is just £13 by paypal. Click below to get this sorted. Open to UK only.