Boro v Birmingham Fanzine - Available To Buy
By Rob Nichols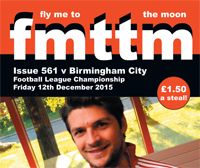 Issue 561 V Birmingham is now available to buy - through the post (UK only) or the email version.
We launched it in a storm at the Riverside so you might have missed out buying it as you rushed for cover at the game. The December issue includes an interview with Teesside favourites Cattle and Cane a band on the up through 2015 that saw their debut album Home released to great critical acclaim as well as great sales, charting. We celebrate Boro the hoodoo busters and look ahead with excitement as we discuss the many great Festive successes over the years. Yes wins on a Boxing Day! Oh and there is a brand new feature. Fabio Moreira becomes our first ever (Almost) Boro Legend.
All this and far, far more.. an archive interview by Shaun Keogh with the late Bryan Orritt, record breaker for Boro in the 1960s. Karankabanter rates our promotion opponents from one to ten in a half time report. Who ill come out top? Charlton blogger Paul Breen gives us some outside inside info on playing Brighton away.

So, you can order this issue of the fanzine for just £2 including postage – UK Only.
Or click below for the email version also £2.