Boro's Fulham Fanzine Reprise
By Robert Nichols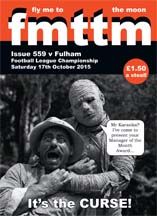 The third fmttm Boro fanzine of the season is now available to buy. The team was back from the international break, looking to sweep Fulham aside and avenge that damning defeat at the end of the last season. Hopefully we were refreshed and able to put the away defeat at Reading out of sight and out of mind with a big Riverside win. Alack and alas, not to be. Bore draw.
But never mind we have a special fanzine for you here packed with your articles, observations and cartoonery.
Firstly, Georgina Anderson is remembered in print. The Boro have asked her family for permission to dedicate this game to the memory of Georgina and the Teenage Cancer Trust she spent her last few months fundraising for.
Karankabanter pays tribute to a new Boro World Champ, Glen Durrant winner of the BDO World Masters. We talk with Times northern sports correspondent, George Caulkin about the Sir Bobby Robson Foundation and the present plight of north east football. Have the two Premier clubs lost their way and lost their identity?
Paddy Dillon writes about birthday boy, George Friend and questions his musical taste crudely exposed in a recent matchday programme Q and A. The Lighthouse Family!? For goodness sake, what century are we in, George?
Much much more besides.
Available to UK only. (If abroad try the internet version - bottom of page)