Putting The Fan Into Fanzine - Issue 558 to Buy
By Robert Nichols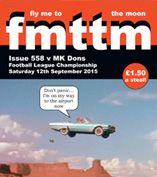 It was the second fanzine of the season – Issue 558 - and once again it heralded a big victory in our first ever contest v MK Dons. We have just clocked up 20 years at the Riverside so it seemed appropriate to make the fanzine even more fan-centric than usual.
The star interview was with Nick Waites, a super supporter in every sense of the words. Nick hasn't missed a league game in the whole Riverside era, home or away, so I had to talk to him about his life and times at the Boro. He hasn't actually missed a league game since 1992 or any Boro competitive game since 1997. We also feature a bunch of Boro fans that have grouped together to make dreams come true. An incredible effort delivering match tickets, even season tickets as well as Riverside tours and lots of other Boro goodies for deserving children and families.
Fmttm also received an article about a remarable man and former Boro physio Jimmy Headridge, whose family received an honour for his services to medicince in football.
UK Residents can buy the paper copy of the fanzine by clicking the button below and it will delivered through the post. £2.00 including postage