Boro v Bolton Fanzine Available
By Robert Nichols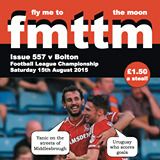 It was the first fanzine of the new season – Issue 557 - what a brilliant match it was Boro 3-0 Bolton Wanderers. In case you missed it then we have put a few spare copies in our fmttm shop for sale.
This issue featured an exclusive interview with Stewy Downing, the prodigal son has returned. There was a tribute to a wonderful man, Barrie Emmerson, who left us this week at the age of 83. In fact the fanzine was dedicated to the memory of an inspirational Boro fan, runner, teacher and so much more.
UK Residents can buy the paper copy of the fanzine by clicking the button below and it will delivered through the post.
The issue is also available via email - please click the button below for email version (hope you don't get mixed up!)