Twisterella
By Robert Nichols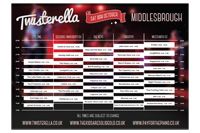 Sweet Baboo, Lilliput, Weird Shapes, Elisa and the Bear, Cattle and Cane etc etc etc. I am licking my lips at the quality in depth of a line up loving selected by Henry "Pay For The Piano" Carden and The Kids Are Solid Gold.
But then again it should come as no surprise that two promoters that care would pick music with their hearts as well as their minds and come up with a day that will excite, engage and educate. I bet you come away with a new potential favourite band by the time of the late night curfew.

Tomorrow is the day when Middlesbrough hosts one of the most exciting and cutting edge musical events certainly in my time in and around local music. I have been watching bands and occasionally playing in bands in the north east for around 35 years and I have rarely seen the like of tomorrow's multi venue and unconvention-al festival.

There will be music world movers and shakers at the Unconvention. As in people that really know and people whose advice has weight to it. If you are in a band or looking at playing live or recording then make sure you sign up to this. I attended something similar in Bradford about 20 years ago and the lessons and advice I picked up set me up for life. No exaggeration.

I don't even know where to begin as regards recommendations. There are exceptional acts across all the venues. But I am going to start with Sweet Baboo. Recently touring as bass player to Cate le Bon this Welsh wizard of word play and cheeky charm always puts on a top dollar show.

Lilliput, north eastern Beach Boy harmonies and hats. They were Lukas Jutkiewicz's favourite Sunderland songsters. T-Teessiders Weird Shapes take a tune and then develop it with quantum physics formula, prog rocket algebraic sounds.
Cattle and Cane need no introduction so instead I will say that they will play the evening out in the University with a memorable finale.

This is designed to be a festival with an intimate feel. No huge halls. So you can get close and almost touching distance of the acts. Some live acts that might soon be several steps beyond the madding crowd as they leap up the musical food chain.

Both Henry and TKASG have a habit of spotting talent ridiculously early. There could be the next Mumford and Sons or The 1975 could be out there tomorrow. Can you spot them.

In the words of Henry Carden "your chance to be ahead of the curve and see 2015s biggest bands in 2014"
So quickly bag your tickets for £15 now before they inflate to the still bargain price of £20 on Saturday. And also click the link for all the info and that all important running order. I absolutely cannot wait.